Angel Chord Matchup and Sideboard Analysis
Hello everyone!
As I mentioned in my previous article, the deck I worked on most for Pro Tour Oath of Gatewatch was the Angel Chord deck that half of Team MTG Mint Card ended up playing. Due to Matt Rogers's success with the deck at the event, it has since then gained popularity, and has also been included in the Pro Tour Gauntlet on Magic Online.
With three Modern Grand Prix coming up this weekend, I thought this would be a good opportunity to go over the sideboard notes that Rogers and I came up with the night before the Pro Tour with some input on the popular matchups! Here is the decklist that Matt Rogers and I played at the Pro Tour!
Team MTG Mint Card's Angel Chord
Gallery View
Modern by MTG Mint Card
Buy This Deck
Description
Pro Tour Oath of the Gatewatch
I've also put together this very comprehensive sideboard guide for anyone who is interested to play this deck! And even if you aren't, you can check out how we sideboard against you. Here are the matchups that I've going to be covering below!
Affinity

Burn / 1-Drop Zoo

Infect

Midrange Eldrazi

Abzan / Jund

Ad Nauseam

Tron

Grixis / Jeskai Control

Merfolk

Elves

Scapeshift

Grishoalbrand

Naya Company

Living End

Temur Delver

Kiki Chord / Abzan Company

Hatebears

Lantern Prison

Bogles
1. Affinity
+2 Worship
-2 Spellskite
Matchup: Favorable
This matchup is a complete race where we're trying to assemble our combo before they get to us with Arcbound Ravager or Cranial Plating. We found that more often than not, we were up in this race as we had enough disruption in the form of Path to Exile and Lingering Souls, to slow them down enough to get to the combo. Lingering Souls is fantastic here as it blanks their Signal Pest swarm plan, but also fuels faster Chords which is crucial when the matchup is a race.
Post-board it gets better as we gain much more powerful cards than them (they usually bring in Whipflare and Ghirapur Aether Grid). Although they can still win through a Worship with Inkmoth Nexus, Lingering Souls should give us enough blockers to find the combo and win. Note that a way to kill Etched Champion, or wipe their board when they have a Master of Etherium, is to Chord for Orzhov Pontiff in their combat and block with it, then haunt it onto your Spike Feeder, which you can then sacrifice away to give their team -2-2 that turn. This doesn't come up often but I did get my opponent with it at the Pro Tour!
2. Burn / 1-Drop Zoo
+2 Worship
-1 Lingering Souls (Burn)
-1 Qasali Pridemage (Zoo)
Matchup: Favorable
The combination of defensive creatures such as Wall of Roots and Spellskite, plus life gain in form of Spike Feeder and Archangel of Thune, makes these type of decks a very good matchup. It's unlikely that they will be able to kill us before we manage to stabilize the board and start gaining life. One of the few ways Burn can steal games though is with a turn 2 Eidolon of the Great Revel, so make sure to be aware of this. You may often find yourself Chording for Qasali Pridemage to kill it, as you'd be unable to play the cards in your hand otherwise.
Post-board they're unlikely to bring in Destructive Revelry unless they know your list so Worship should be game over. Even if they do bring it in, I keep the Worships, as often we leave them with dead cards if we don't draw it and if we do, they usually don't have that many turns to find it before we can stabilize the board by finding life gain outlets or just win with the combo.
3. Infect
+3 Thoughtseize
Matchup: Even
The matchup is largely based around Blighted Agent, as we have enough ground creatures to stop Glistener Elf and Lingering Souls should be able to hold Inkmoth Nexus at bay for long enough to assemble the combo, or overwhelm them with Gavony Township. This means the key to the game is to try not to use your Path to Exile on anything but Blighted Agent if possible, as well as Chording for Spellskite and Orzhov Pontiff. My experience with whether this matchup is favored or not has largely been based around their specific iteration of the deck. For lists with multiple Twisted Image in the maindeck, it becomes a lot harder as they have a way to kill Spellskite even pre-board, but the more "all-in" version with no removal and multiple Mutagenic Growth is quite favoured as they have a very hard time beating Spellskite.
Post-board we gain Melira, Sylvok Outcast as another Chord target. Again, their version of the deck matters a lot in terms of whether we choose to fetch this or Spellskite first. Against the version that boards into 4 Tarmagoyf, they can easily beat the former with normal damage while the latter is much worse if they have multiple Twisted Image in their deck. Hopefully you can set up a Thoughtseize first to see what you're up against, but in the blind I usually fetch for Melira, Sylvok Outcast first, because most Infect lists have 3-4 Twisted Image post-board.
4. Midrange Eldrazi
+3 Thoughtseize
-2 Spellskite
(If they're on the BW version without Scrabbling Claws or seem to have boarded some Relic effects out, keep in 2 Path to Exile and don't bring in any Stony Silence).
Matchup: Favorable
One of the initial draws to Angel Chord was that we found this matchup to be great. Unlike the GBx Rock decks, they don't have as much disruption but their creatures are also all ground based (Abzan has Lingering Souls and Jund has Pia and Kia Nalaar). This means they have a hard time dealing with both the combo, as well as the Lingering Souls+Gavony Township plan. We should comfortably be able to win with one of these routes before they can get to us with their Blight Herders and Oblivion Sowers.
Post-board it gets slightly harder as they bring in cards such as Damnation and Night of Souls's Betrayal. However we get to also board out a lot of out dead cards, and bring in Thoughtseize to try get rid of their relevant sweepers, and use Painful Truths to grind through the heavier disruption they get.
5. Abzan / Jund
-1 Spellskite
Matchup: Favorable
This was a matchup we initially struggled with as they had enough removal to kill our relevant creatures, and leave us with a bunch of mana creatures that can't carry themselves to victory. However once we added the 2nd Courser of Kruphix, the 4th Gavony Township and the sideboard Painful Truths, the matchup became favoured! They have enough disruption that it's quite hard to combo against them, but we can go wide very well with a combination of Lingering Souls+Gavony Township or Archangel of Thune, which they have a hard time beating as they rely on standalone ground threats such as Tarmagoyf and Siege Rhino.
Archangel of Thune is great here even without the combo as they actually have a relatively hard time killing it, as it can't be hit by Abrupt Decay or Lightning Bolt. In combination with Lingering Souls or Courser of Kruphix, we'll be able to make your team big enough for them to not be able to outrace it but also go wide enough that their efficient one-for-one removal can't keep up with us.
Post-board the matchup becomes much more grindy and attrition based, as they bring in sweepers such as Anger of the Gods or Damnation. However with 3 Painful Truths, we should be able to out grind them as it draws us into more Lingering Souls which they have a very hard time beating. If they play Ghost Quarter or bring in Fulminator Mage, try sandbag your Gavony Township for as long as you can, and so you can then play it and still get an activation out of it before it gets destroyed.
6. Ad Nauseam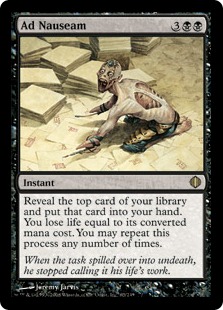 +3 Thoughtseize
-2 Spellskite
Matchup: Favorable
This matchup is unfavored pre-board but post-board it becomes very good so overall I think it's favored. Pre-board it's too hard to try beat them with creatures as they consistently go off on Turn 3 or 4, since we have no disruption, so the plan is to try race them with our own combo. More often than not, they'll get there first, but on the play sometimes we can win on our turn 4 which is good enough. One of the relevant Chord targets in this matchup is Qasali Pridemage to kill their Phyrexian Unlife or Pentad Prism.
Post-Board it gets a lot better. Stony Silence stops their Pentad Prism and Lotus Bloom, which usually slows them down enough that we can race them with our combo, especially as they have such little disruption. Also once we Chord for Ethersworn Canonist, we should be able to win as they often have no ways to get rid of it. Painful Truths is great in this matchup as we can reliably cast it on Turn 2, and it allows us to draw into a Stony Silence or Chord of Calling to cast on Turn 3 or 4 to stop them from going off. Note, that the reason we chose to play Ethersworn Canonist over Eidolon of Rhetoric was because Ad Nauseam decks online were starting to play Patrician's Scorn in their sideboard.
7. Tron
+3 Thoughtseize
-2 Spellskite
Matchup: Unfavorable
This is the hardest matchup of the common decks and it is near unwinnable. At one point we had a build with Aven Mindcensor and 3 Crumble to Dust (alongside a maindeck Stomping Ground) still couldn't beat it. The main issue is that, like other midrange decks, we're very weak to both the "Tron" game plan where they overwhelm us on mana and cast cards like Ulamog, the Ceaseless Hunger, as well as to just Oblivion Stone on its own. Trying to fight one angle will leave us dead to the other, while trying to attack both will dilute our deck and slow us down enough that they can start naturally hard casting cards such as Wurmcoil Engine and Karn Liberated to beat us.
The plan post-board is to try focus on the combo, and kill them before they start assembling anything. Since we have no land destruction, attacking their "Tron" plan won't work so our best bet is to use Thoughtseize and Stony Silence to try stop them from using Oblivion Stone, and then combo off before they cast cards like Karn Liberated and Ugin, the Spirit Dragon. Painful Truths helps here as it draws us into the combo faster. Note, that you should always try to cast Spike Feeder after Archangel of Thune as they can kill it with Pyroclasm and stop you from going off if you play it first. Even if you have nothing to cast and have it in hand, I would usually hold it as getting in for two damage here and there is not going to be relevant.
Below are sideboard plans for matchups we considered as being outside Tier 2 and hence did not have in our gauntlet. Many of these matchups I have limited experience playing against, as it would have only been on Magic Online or in our mock tournaments, so take the following with a grain of salt!
8. Grixis / Jeskai Control
+3 Thoughtseize
-1 Spike Feeder
-1 Spellskite
If they have Restoration Angel/Kiki-Jiki,Mirror Breaker, keep 2 Path to Exile and board out 1 Noble Hierarch and 1 Spike Feeder.
9. Merfolk
+2 Worship
-2 Spellskite
10. Elves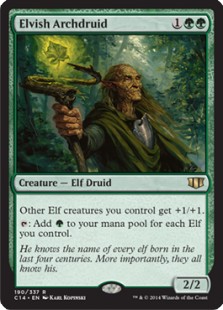 +2 Worship
-2 Spellskite
They should board out their Reclamation Sage but if they see Worship in Game 2, they would bring them back in so then board it out and bring in 2 Thoughtseize.
11. Scapeshift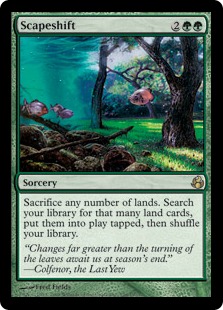 +3 Thoughtseize
+1 Sigarda, Host of Herons
-2 Spellskite
12. Grishoalbrand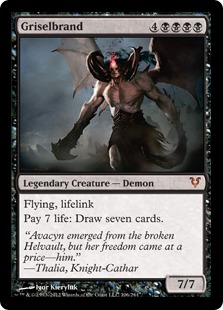 +3 Thoughtseize
+2 Worship
-2 Spellskite
13. Naya Company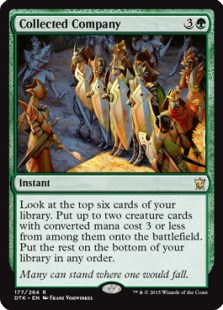 +2 Worship
14. Living End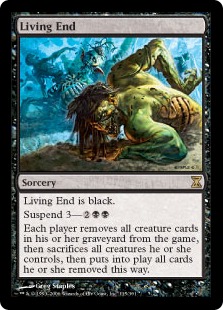 +3 Thoughtseize
+2 Worship
15. Temur Delver
+1 Burrenton Forge-Tender
16. Kiki Chord / Abzan Company
+2 Worship (Kiki Chord)
+2 Painful Truths (Abzan Company)
-1 Spellskite
Kiki Chord should board out their Reclamation Sage but if they see Worship in Game 2, they would bring them back in so then board them out and bring in 2 Painful Truths.
17a. Hatebears (Flickerwisp)
17b. Hatebears (no Flickerwisp)
+2 Worship
-1 Spellskite
18. Lantern Prison
+3 Thoughtseize
-2 Spellskite
19. Bogles
+3 Thoughtseize
+2 Worship
Ready Yet?
Anyway, I hope you enjoyed this article and learnt some tips about the different matchups, and how to sideboard against them with Angel Chord! Even if you're not playing this deck, knowing what their plan is if you potentially pair against it, is very valuable e.g. as an Elves player, I'd take note that most Angel Chord players would likely bring in Worship with the assumption that you'd board out your Reclamation Sage, so I won't board it out for Game 2, as it's only one slot and it can still kill a Spellskite or a Courser of Kruphix.
If you have any feedback/questions on this article or ideas for future articles, please feel free to comment and I'll try to respond!
Until next time!
Zen Takahashi
@mtgzen on Twitter
---
Cards in the Articles
$94.99

$85.99

$69.99

---
Articles you might be also interested
The Hapless Researcher goes brewing again after reading a tip from Lee Shi Tian!
Kelvin Chew updates Bant Company with Dominaria cards and shares a thorough sideboarding guide.
The Modern Master Lee Shi Tian picks out the top cards from Dominaria that may impact Modern!
---
---