Legendary Naya in Standard
Hello everyone!
After making Top 8 at Grand Prix Sydney and hitting Silver, I unexpectedly found myself qualified for Pro Tour Eldritch Moon the next week. However, due to prior commitments, I had to fly back to New Zealand the Monday following the GP, which lead to me flying back to Sydney on the Thursday for the Pro Tour.
As a result of all my previous preparation for the GP, I was confident about Limited, although I knew I was going to be very underprepared for the Standard portion. Up to that point, I had not played a single game of the new Standard format and barely knew anything about it other than overhearing that Bant Company was still good. This rather hectic period also meant that I would get very little chance to playtest any games – in fact, I ended up arriving in Sydney on Thursday morning, having played a total of two matches of the new Standard format: I went 0-2 drop in a Magic Online league with a RW Burn brew I was recommended by a friend.
Despite not being able to play any games, I still managed to learn a lot about the format by devouring all the previous SCG Open results and communicating with Kent Ketter and Rudy Briksza – both of whom are SCG Open pro players. With Team MTG Mint Card busy testing, I knew that I'd have to find other people to learn Standard from before arriving in Sydney. I believe the SCG Open pros often have a very good understanding, as they grind tournaments every weekend and are used to being at the forefront of changes to the metagame. Both Kent and Rudy went out of their way to help me, despite barely knowing me, which I am very appreciative of.
SCG Open players often get dismissed due to the lower level of play in those tournaments, but I do think the pro players on the circuit are great and their ability to produce excellent results week in and week out in these large tournaments is a testament to their skill.
The Levels

Based on my research and discussions, I believed the format looked something like this:
Level 0:
Bant Company
Level 1:
Black based Control decks – mainly BW Angels and BW Planeswalkers
Level 2:
Slower Black based Control decks – Sultai and GB Delirium
Level 3:
Emerge decks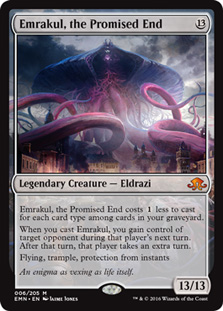 My understanding was that these 'Level 1' Black-White Control decks were able to reliably beat Bant Company, the boogeyman of the format. To then beat these Black-White decks, you'd have to try go over the top with cards such as Dragonlord Silumgar and Emrakul, the Promised End. These 'Level 2' Black based Control decks sacrifice early interaction for a more powerful top-end. Above that were the various RUG and UR Emerge decks, which were great against the Black based Control decks but had a poor Bant Company matchup.
I decided I wanted to try be on Level 2, as I didn't want to go quite so far for the Emerge decks because I believed Bant Company was going to be popular and talking with Team MTG Mint Card, they seemed confident that the matchup was bad. I knew that these Sultai/GB Delirium decks would have a worse Bant Company matchup than the Black-White decks because they have fewer early interactions and are more clunky due to the higher amount of top-end, but I wanted to see if there was a way to lower the curve of these decks while still maintaining their powerful finish. However, I was worried that I wouldn't have enough time to work on these decks and able to tune them well enough.
Thankfully, my main testing partner Matt Rogers tested some of Ali Aintrazi's Sultai Delirium deck for me on Wednesday night and Team MTG Mint Card also seemed confident in their Sultai Delirium deck. Unfortunately, when I woke up on Thursday morning for my flight, I was told by Matt that he believed the deck was clunky and bad. The main team had also discarded the deck and were now locked on playing either Bant Company or BW Planeswalkers.
As I boarded my flight for Sydney, I was planning on sleeping on the plane but my mind was racing. I didn't want to play either Bant Company or BW Planeswalkers, as I believed the former was too hard to play without any practice while the latter would be poorly positioned, as I expected many players to try to be on 'Level 2'. I spent much of the flight looking over the multiple pages of Team MTG Mint Card's in-house mock tournament results and it seemed clear that Bant Company was the best performing deck while BW Planeswalkers was consistently beating Bant Company but having at best an even or bad matchup against everything else.
By the time I got to the hotel and met up with the rest of the team, I decided I was going to play Bant Company. While I was confident I'd be able to pick up BW Planeswalkers and play it decently, it seemed too poorly positioned. I wasn't confident at all with my ability to pick up Bant Company, but my teammates were sure of their list and I was hoping I could watch some of them play and try to pick up some tips.
However, once I got to the hotel, it turned out that the team was staying in different places and we wouldn't be meeting up till later on in the day. With time to kill, I decided to jam a game of the Bant Company mirror with Andrea Mengucci – one of the biggest advocates of the deck. Fast forward to fifteen minutes later having been severely outplayed, I decided I was in fact not going to play Bant. The deck was simply too hard for me to play and I didn't have the time to learn it.
The Saving Grace

As I walked around the room cluelessly trying to figure out what to do, I decided to watch Marco Cammilluzzi play test some games with his Naya midrange deck against Andrea. The deck had performed well in the in-house leagues, but I had dismissed it because it had a small testing sample size and the deck looked extremely clunky. It was also performing poorly in testing against the Black based Control decks which I expected would be popular. Still, in the games I saw, the deck was crushing Bant Company as he would wrath Andrea's board with Tragic Arrogance then follow it up with big threats.
For reference, this was Marco's list:
Legendary Naya (Standard - Others)
Gallery View
Standard by Marco Camilluzzi
Buy This Deck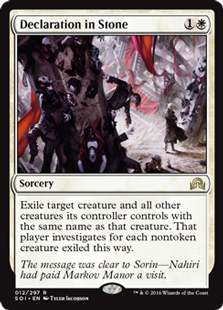 As I watched him play, it seemed to me that Declaration in Stone was actually a massive liability against Bant Company. Since Naya's top end was more powerful than Bant's, you only really needed to stay alive for the first five or six turns of the game before you're able to reset the board with Tragic Arrogance or take over with powerful threats. However, while Declaration in Stone did slow them down early, it also gave them more opportunities to come back later in the game as they'd get more chances to draw into Collected Company, one of the few cards that can bring them back into the game. It never came up during the games I watched, but I constantly found myself being worried about giving the clue token to Andrea when it felt unnecessary to be killing early creatures.
With time running out, I knew that I had to decide on a deck immediately and after watching those games, I decided I would play Naya. However, I definitely felt like there were some flaws with Marco's decklist that I wanted to address. They were, as follows:
With Humans declining in popularity, Bant Company was one of the few creature decks left in the format. Although Declaration in Stone is also good against tokens, it seemed unnecessary when you also have three copies of Tragic Arrogance.
I decided I wanted Hangarback Walkers because I disliked how few turn-2 plays this deck had. Outside of Sylvan Advocate, it has almost nothing to do on turn-2 which is a liability against cards such as Duskwatch Recruiter. I also believed that they would be fine against Bant Company as all this deck is trying to do is stall the early game. While Hangarback Walker can't trade profitably against them, it does slow them down as it can chump block effectively or force them to cast an early Reflector Mage – a play which is less aggressive than they want to be - and also allows you to later set up for Archangel Avacyn/Hangarback Walker which is powerful in Game One when they have fewer copies of Ojutai's Command.
Tireless Tracker is most efficient when your deck has a lot of cheap removal. While I agreed with playing four copies with Declarations in the deck, I decided I didn't want a playset of them when I didn't have any cheap removal in my deck as drawing multiples can be clunky. Still, I liked them in the board as I wanted to play cheap removal in the Sideboard that I could bring them in with against certain matchups.
Evolutionary Leap is specifically a pet card of mine and I knew I wanted to add two copies when I added the Hangarback Walkers. I felt like this would improve the matchup against the Black based Control decks tremendously, as they can't keep up with the card advantage that Leap is able to generate. With this combo available in addition to cutting the mostly-dead Declaration in Stone, I felt like my version was now much better positioned against these decks.
Simply put, Marco thought Gisela, the Broken Blade was terrible, but you had to play one copy as a concession to Bruna, the Fading Light which he was impressed with. However, when we decided that Dragonlord Atarka was almost always better than Bruna anyway, we knew we wanted a second copy of the Dragon and Gisela could finally be cut. We decided we wanted another five drop in the deck – with Sigarda, Heron's Grace and Archangel Avacyn being the competing choices.
I decided I wanted Archangel Avacyn to go with my Hangarback Walkers but I believe Faye and Marco, who both ran a list much closer to the original, chose Sigarda as it was a good Thalia's Lancers target against Emrakul, the Promised End.
The Final Legendary Naya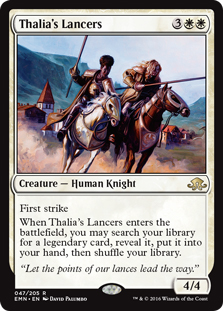 Based on these changes, this was the final deck I submitted, minutes before the deadline for online submission:
Legendary Naya (Pro Tour Eldritch Moon 2016 - Others)
Gallery View
Standard by Zen Takahashi
Buy This Deck
As I sat down for the first round of Standard, I was nervous as I was playing a deck I'd played zero games with and had made significant changes to. In the end, my results in Standard were as follows:
Round 4: Ethan Formichella - UB Zombies (Win)
Round 5: Shota Takao - 4c Dredge (Win)
Round 6: Paul Dean - GW Tokens (Win)
Round 7: Ricky Chin - GB Delirium (Win)
Round 8: Tomoharu Saito - Bant Company (Win)
Round 12: Jason Chung - 4c Dredge (Win)
Round 13: Lukas Blohon - BW Control (Loss)
Round 14: Valentin Mackl - Bant Rites (Loss)
Round 15: Allen Wu - GB Delirium (Loss)
Round 16: ID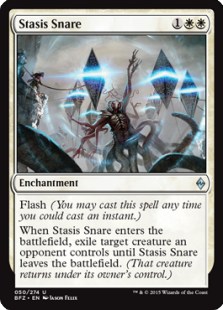 The deck ended up over-performing on Day One, with a miraculous 5-0 result. As it turned out, the deck was well positioned against the various Graveyard based decks that were popular at the Pro Tour, as cards such as Tragic Arrogance and Stasis Snare were great against them and the Archangel Avacyn/Hangarback Walker interaction meant I could wrath their board almost at will, since they run hardly any removal to stop that combo.
My results on Day Two weren't so great, as I was only able to win one match. In Round 13, I found myself playing against eventual champion Lukas Blohon where I stabilized and was far ahead in Game One only to throw it away by playing too conservatively, letting him draw out of my near-lock. From there, things went south as I lost the next two rounds before drawing in the last round to make Top 75. My poor result on Day Two was mainly due to my poor play as I think I could have beaten both Blohon and Mackl if I played better.
Overall, I was happy to go 6-3-1 with the deck. Hangarback Walker was great for me throughout the event as it pulled its weight against the Graveyard decks thanks to the previously mentioned interaction with Archangel Avacyn, while the combo with Evolutionary Leap was fantastic against all the midrange control decks.
They also played out exactly how I thought they would against Bant Company, as I was able to beat Saito in Game One by casting a turn-2 Hangarback Walker which was immediately bounced by Reflector Mage. I simply held it until Turn Five where I cast it alongside Archangel Avacyn to wipe his whole board.
I was glad with my changes and would recommend the deck going forward. However, it definitely needs some tuning – for starters, I would cut both Thalia's Lancers and move the two Tireless Trackers from the sideboard to the main deck. The sideboard also needs adjusting, as you have open slots once you move the Tireless Trackers into the main. Emrakul, the Promised End should be cut, as it's too hard to cast in this deck.
Based on the results of the Pro Tour, I may consider a second Sigarda, Heron's Grace as it's great against the Emrakul decks, while also a fourth Stasis Snare in the sideboard due to the success of the Temur Emerge decks.
Sideboarding Guide
As people always ask how to sideboard, the following is the sideboard guide that Marco, Faye and I prepared the night before the Pro Tour. I can't emphasise enough that this guide was based on zero games of testing by me, while Faye and Marco had been playing a different version of the deck throughout testing. Therefore, follow it with a grain of salt.
Bant Company:
BW Control:
GW Tokens:
+1 Tireless Tracker (2 on the Play)
-1 Linvala, the Preserver (Play)
Mono White Humans:
-1 Stasis Snare
UR Emerge:
UW Spirits:
Sultai Control:
4c Rites:
A Legendary Time

I hope you enjoyed this article recounting my experience at Pro Tour Eldritch Moon. While my Standard preparation was severely lacking, I'm happy with the amount I learnt about the format in the short time I had. I can't thank enough those who helped me prepare for this event on such short notice – specifically Matt Rogers, Kent Ketter and Rudy Briksza. Also a big thanks to everyone on Team MTG Mint Card, who let me into the team even though I was not able to contribute much. I appreciate everyone's understanding of my situation and the fact that they were willing to accept me with open arms.
As for the result, I'm stoked to have been able to make Top 75 and cash a Pro Tour for the first time. This was my third Pro Tour, and having not made Day Two in either of the previous ones, my goal was simply to make Day Two. As it turned out, I was able to do much more than that, as I found myself at 9-3 after Round 12 and needing only a 3-1 score to achieve both Gold and Top 8. At the time, it was disappointing when things went downhill as I felt like that was the closest I'd ever get to making a Top 8 of a Pro Tour and getting on the train.
However, by the time Day Two concluded, I was simply excited with my performance over the weekend and those previous feelings had gone away. For much of the last couple of years, I believed I was decent but was never quite good enough to be a Pro Tour mainstay. Both of my previous Pro Tour experiences were short-lived and it felt like the skill gap between myself and these players was massive. These past two weekends showed that while I still do have a lot to learn, I have definitely improved over the past year. I'm still nowhere near at the level needed to be on the train, but at least I'm now qualified for the next two Pro Tours and all the RPTQs this season, which gives me a great opportunity to take advantage of and hopefully with some hard work I'll only get better from here.
Until next time!
Zen Takahashi
@mtgzen on Twitter
---
Cards in the Articles
$38.99

$15.99

$13.74

---
Articles you might be also interested
Patrick Dickmann places Top 64 at PT EMN and shares his tournament experience!
---
---