Why I Hate Lee Shi Tian
A Decade or Two Ago


For the past two decades, the Pro Tour scene has mostly been dominated by the Americans, followed by Europeans and Japanese. Throughout the last twenty years, numerous household names were enshrined into the Pro Tour Hall of Fame, such as Jon Finkel, Kai Budde, Gabriel Nassif, Shuhei Nakamura and many, many more.

In the grand scheme of the Pro Tour scene, the Asia Pacific region has indeed played a minimal role, relatively.

There has been a lot of new talent on the rise and several breakthroughs in recent times but twenty years or ten years ago, there weren't many mainstay professional players from the Asia Pacific.

That changed, when I first made the Top 8 at the World Championship in 2004.

Terry Soh, 2004 World Championship


Yes, me! Unlike today's version of the World Championships (rather than only inviting 24 players), the World Championships in the past was a considered to be a Pro Tour with maybe three hundred of the best players in the world.

The following year, in 2005, I made my second Pro Tour Top 8 at Pro Tour Nagoya, eventually placing 3rd. To make things even sweeter, I also won the Invitationals and earned the right to design my very own card, and Rakdos Augermage was created.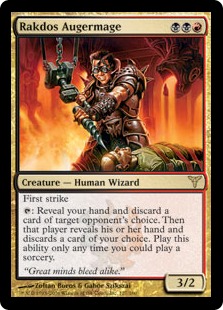 Four years later, at the 2009 World Championships, I made my third Pro Tour Top 8.

At that point, I was pursuing my Master's Degree. As life beckoned, I was satisfied with what I had achieved and decided to slow down. I was happy to have made three Pro Tour Top 8s, three Grand Prix Top 8s, and I even won Malaysia Nationals in 2008. I shifted my focus towards my health, my business, and my family, and I left the competitive scene with my head held high.

I felt that I would probably be immortalized as the very best player of the Asia Pacific, for a long, long time.

It was extremely unlikely for anyone within the Asia Pacific to top my three Pro Tour Top 8s, a statement which held true for almost a decade.


What happened?

Well, this happened in 2008!
Lee Shi Tian, burst onto the scene just as I took a step backward from the arena, and shattered my dreams of being the best player in Asia Pacific.

Lee Shi Tian, I hate you. You overtook my spot as the undisputed best player in the Asia Pacific.

Now, I am just number two.
FIVE IS A LOT.

All kidding aside, Lee Shi Tian has a staggering 5 Pro Tour Top 8s.

That is a lot.

No, seriously. Like... that is A LOT of Pro Tour Top 8s.

I'll name a few other legendary Magic players who have 5 Pro Tour Top 8s. William Jensen, Ben Stark, Guillaume Wafo-Tapa, Jelger Wiegersma, Olivier Ruel, and Nicolai Herzog, just a few examples of esteemed pro players and juggernauts of the game, who have similar results on the Pro Tour as Lee Shi Tian and are all in the Hall of Fame. Even the great Yuuya Watanabe and Shota Yasooka have only 4 Pro Tour Top 8s each!

As someone who has played on Sunday, I can tell you that it is extremely difficult to achieve even one Pro Tour Top 8, let alone FIVE!

There are plenty of good players I know personally for years and years, and they've tried years and years without that elusive breakthrough. Being located in the continent of Asia makes it even more challenging to pursue the professional Magic dream, because of additional geographical challenges, high costs of traveling, and the lower number of events in our area.



Building A Team, Growing a Community

During the years when I was active on the Pro Tour, there wasn't a playtesting group within the Asia Pacific. Firstly, there weren't many players who qualified for the Pro Tour, and there were also very few players who were invested in the pursuing a Magic lifestyle. I was on the gravy train for a few years, and I played the highest level of Magic during those years. However, I also felt lonely at times, and the long travel caused a lot of burnout.

No less than five years ago, the scene changed, for the better, in the Asia Pacific. Lee Shi Tian, who became Team MTG Mint Card was born, unifying the top players in the region notably from Taiwan, China, Hong Kong, Singapore, and South Korea, to form a force to be reckoned with.

As the team leader and a key content contributor of MTG Mint Card, he also helped grow Magic throughout the Asia Pacific and put the Asia Pacific on the international map. If there is a day where I am back to playing competitive Magic, Lee Shi Tian will be the one I hope to work with.



You Have My Vote, Without a DOUBT


To me, Lee Shi Tian is a clear vote in Hall of Fame.

I looked through the entire list of player who had 5 Pro Tour Top 8s or more, and 90% of them are in the Hall of Fame. The five Pro Tour Top 8 threshold is extremely high to reach. To be deprived a vote into the Hall of Fame requires a very, very shady reputation to begin with, but as far as I know, Lee Shi Tian has NEVER been disqualified from a tournament. To me, this is substantial evidence that he is clean.

I would also like to mention that there is a vast distinction between disqualification, and the occasional game loss or warnings. Everyone has received game losses and warnings at some point in their career, but very few have been disqualified. Usually, something has to go very wrong in order for a situation to warrant a disqualification. By having none of that, Lee Shi Tian certainly clears that check mark off for me.


Lee Shi Tian, you have my vote.


Now, go kick some ass, my buddy.

I am very proud of you, and I wish you the best of luck.

Regards,
Terry
---
Articles you might be also interested
Zen Takahashi to Lee, It has been an absolute pleasure seeing you become a legend of the game.
Eduardo Sajgalik shares his 2018 HOF Ballot, as well as countless stories about the community!
---
---