Black-Red Aggro in Standard

The Pro Tour had just ended with Ramunap Red dominating at top of the standings. The metagame is quite diverse in the form of Black-Green decks, Mardu Vehicles, Blue-Red Control, White-Blue Monument and more, but the one that really performed well and the deck to beat was Ramunap Red. Ramunap Red is truly a very powerful deck with a lot of built-in resiliency and reach.
In fact, it mimics the original Mardu Vehicles game plan by playing a dozen one-drops and powering all the way to its four-drop finisher to seal the deal, in this case Hazoret the Fervent instead of Gideon, Ally of Zendikar.

The 8 Desert lands provided extra reach and inevitability in the late game, making it very difficult for control players to survive the last few points of damage. Blocking is also an extremely inferior strategy to defend against Ramunap Red, as the deck has a bunch of built-in Falter effect haste creatures, in addition to a fiery of burn spells and occasionally Chandra, Torch of Defiance in the main deck.

How should you fight such aggression?

With more aggression! Firstly, let's check out Shintaro Kurata's Black-Red Aggro, which made the Top 8 at Pro Tour Hour of Devastation!
Black-Red Aggro (HOU) (Standard - Top 8)
Gallery View
Standard by Shintaro Kurata
My brother Joe Soh posted a decent 7-3 Constructed record in the Pro Tour. He brewed up one of his own decks as usual. Do take note that it is completely different from Kurata's deck. Kurata's deck is a Ramunap Red deck splashing Black, while Joe's deck is mainly Black with a splash of Red! It's also worth noting that Joe played against 5 Ramunap Red and he beat 4 of them, indicating that this might be a good deck for the Ramunap Red heavy metagame.
Black-Red Aggro (HOU) (Standard - Others)
Gallery View
Standard by Joe Soh
Black-Red Aggro is focused on delivering huge life swing, speed, and resilience. The deck is designed to maintain a balance between delivering huge life swing against red whilst having access to mid-game power in the form of eleven recursive creatures against control.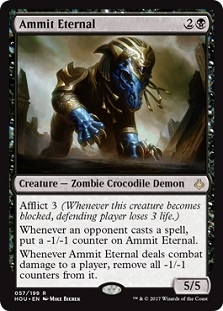 This card is basically Phyrexian Negator on steroids, so good that Shintaro splashed a playset in his red deck. Ammit Eternal is extremely under costed for what it's worth and it is the main reason Joe played the deck. Ammit Eternal is able to swing for huge chunks of damage to put Ramunap Players on chump block mode, which can hinder their aggression. If they don't block, it resets as a 5/5 and hits very hard. If they do, they would lose 3 life and put them on defensive mode. Their creatures are a lot more inferior in blocking rather than attacking and we want to put them into a difficult position.

Life swings are the key theme against Ramunap Red.

Continuing with the theme of life swings, the best defense will be the best offense. Lifelink creatures allow you to maintain aggression without holding back while preserving your life totals since we don't want to be in a blocking position. Aethersphere Harvester gained a lot of popularity, given how efficient it is on executing this strategy. Although you only get to 'lifelink' twice, it is usually sufficient to reverse the role of aggression and life total in your favor.
Both of these cards provide a form of card advantage and tempo advantage. The 1/1 Thopter token provided by Pia Nalaar is worth an actual card against Red, as it trades with a bunch of Ramunap Red creatures.

It is really amazing how power creep has come. Besides Gifted Aetherborn, every one and two casting cost creature in the deck provides some form of card advantage. The eleven creatures with recursive ability allows you to apply constant pressure on board. Scrapheap Scrounger is weak against Red, but it is good against everything else and serves as an artifact count for Unlicensed Disintegration.


The Removals

Black and Red has access to the best and cheapest removals in the format. Fatal Push is very efficient right now and it deserves a full slot. Unlicensed Disintegration and Cut // Ribbons serves a similar role in killing similar targets and dealing a few extra points of damage.

The singleton Abrade give us outs against random artifacts like Monument or Gifts. Grasp of Darkness might look like the weakest link here, but it is the only removal in the deck that can kill Hazoret.


Why no Ramunap Ruins in the deck?

It is a tradeoff of consistency versus raw power. The 8 red-black lands requires a large number of basics to operate smoothly, and Joe intends to keep it this way to power out a smooth curve. It could also be painful if Ramunap Ruins is the only red mana source in play as there are only twelve red source in the deck. Besides, you already have access to bonus reach from both Unlicensed Disintegration and Cut/Ribbon.

This is the updated list:
Black-Red Aggro (HOU) (Standard - Others)
Gallery View
Standard by Terry Soh


Vs Ramunap Ruins and Zombies

-4 Bomat Courier
-2 Dread Wanderer
-4 Scrapheap Scrounger
+2 The Scorpion God
+2 Sweltering Suns
+1 Abrade
+1 Grasp of Darkness
+1 Canyon Slough
+2 Magma Spray
+1 Never // Return

Vs Black-Green Variants

-2 Dread Wanderer
-2 Liliana, the Last Hope
-4 Scrapheap Scrounger
+2 The Scorpion God
+2 Doomfall
+1 Canyon Slough
+1 Grasp of Darkness
+1 Abrade
+1 Never // Return

Vs Control

-4 Fatal Push
-1 Abrade
-2 Liliana, the Last Hope
-1 Gifted Aetherborn
+3 Transgress the Mind
+2 Doomfall
+2 The Scorpion God
+1 Canyon Slough

Although Aethersphere Harvester is good against Red, Paulo's list that played a full playset of Abrade is a clean answer to it, and it is likely to be the favored list going forward. Kalitas, Traitor of Ghet fits the same role, if not better. The forth Gifted Aetherborn gets the nod over Dread Wanderer, as Blue-Red decks are kept in check by Red. Blue-Red Control has a hard time to survive in the current metagame as Red overpowered it in all aspects. Red owns the early game with cheap drops, owns the mid game with Chandra, and even owns the late game now with Ramunap Ruins. However, U/R control will Prey Upon anti-Red decks.

Although it is not a combo deck like Copy Cat, Ramunap Red forces the entire metagame to revolve around it and it absolutely deserve a lot of respect. However, if you are looking for different taste of the metagame, the Red Black aggro looks like a pretty sweet choice.

Have fun!
---
Cards in the Articles
$42.99

$18.99

---
Articles you might be also interested
Lee Shi Tian picks out the best Standard cards from Core Set 2019!
Simon Nielsen begins preparing for Standard and shares four of his newest brews!
Zen Takahashi begins brewing for M2019 Standard starting with one of the his favorite tribes!
---
---