Adventures in San Antonio
Last week I returned from a two-week trip overseas. Two of my good Swiss friends Julian Flury and Serafin Wellinger really wanted to play the Team Grand Prixs in San Antonio and Mexico City with me. How amazing is it, that this game grants so many international friends?

Anyhow, degenerate as I am, I decided to go with them. The trip started with a planned 24-hour stop in New York City, because I've actually never been there before. That day included sleeping in a hostel room right next to a gunfight in New Jersey, having the world's best pizza slices near Times Square and preventing a child from breaking his legs in Central Park. Overall a success.

Mexico City was the last stop, and even with the air pollution I enjoyed my visit greatly, particularly because the cuisine is amazing. The Mexicans gives you an eye-opener for what food actually can taste like and we had a great time.

The GP was Team Sealed, my favourite format, and we opened a pool with Heart of Kiran, Herald of Anguish and Skysovereign, Consul Flagship in three different well-functioning decks. I think our pool might have been in the top 5% in the room.

So obviously we went 4-4 drop, and I could spend my Sunday on side events for the first time in more than a year. Anyway, more about San Antonio!
Grand Prix San Antonio

San Antonio in between, however, was a different beast. The format was Unified Modern. You might not know Serafin and Julian, but they're absolute masters in Modern and have some pretty spicy specialties to boot. After a questionable 6-3 start on Day 1, we managed to 5-0 all rounds on Day 2 to end up in 12th place and acquire Serafin the last 3 Pro Points he needed for Silver.

And we did it with the unorthodox combination of me on Death's Shadow Jund, Julian on Restore Balance and Serafin on Green-White Hatebears. This is a testament to how important it is to know your deck well in Modern.

These were our decklists:


Jund Death's Shadow (Modern - Top 16)
Gallery View
Modern by Simon Nielsen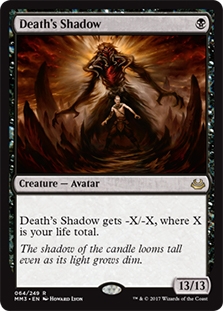 Playing this deck in our setup was a given. It's just straight-up the best deck in the format, I already have a ton of experience with the card Death's Shadow and I could lean up against Magnus Lanttos remarkable sample size with the deck. We had this locked in right from the get-go.

This list is mostly just a carbon copy of the one Lantto featured in his recent article with a couple of small changes. Flaying Tendrils answers a lot of cards and decks that I have troubles with, like Geist of Saint Traft, Dredge, Elspeth, Sun's Champion Elves and Etched Champion.
White-Green Hatebears (Modern - Top 16)
Gallery View
Modern by Simon Nielsen

Gaddock Teeg was a last minute addition by suggestion from Julien Henry. The card performed well during the weekend, peaking against Corey Burkhart on Blue-White Control where I randomly drew it on turn 2 and he never cast another spell for the rest of the match, with Supreme Verdicts, Cryptic Commands and expensive Planeswalkers stuck in hand.

I think Serafin prefers to call the deck Death and Taxes. He has 4 years of experience with the archetype, including a Bazaar of Moxen win and a top 8 at GP Lille last year. Even though the deck looks underpowered compared to the rest of Modern, it offers a lot of room to outplay your opponent, and I trust Serafin to be able to do it.

The deck is also slightly favored against Death's Shadow due to strong aspects of mana disruption, graveyard hate and ability to grind well. Since we expected Death's Shadow to be the most popular deck of the tournament, that was yet another reason to include it in our lineup.


Restore Balance (Modern - Top 16)
Gallery View
Modern by Simon Nielsen


Look at this wonder!
Kiora, the Crashing Wave. Maindeck Leyline of Sanctity. The full playset of Detention Sphere. Doesn't look like a deck that would go 11-3 at a Grand Prix, huh?

This deck aims to cascade into Restore Balance through it's 8 3-mana cascade spells, that can't hit anything else. Ideally, you'll have Borderposts in play instead of lands or sacrifice your lands to Greater Gargadon, at which point Restore Balance reduces the opponent to 0 permanents, and you'll win eventually with your Planeswalkers or Greater Gargadon.

Julian doesn't have the same longitude of experience with his deck - mostly because the deck only became good after Nahiri got printed - but he still managed to win a WMCQ and get Top 64 in GP Lille with this pearl. Back then he played black instead of blue, but die to manabase overlaps with my Death's Shadow deck he had to switch Demonic Dread for Ardent Plea - which happens to make his combo match-ups better.

And since the deck is also quite good against Death's Shadow and had no overlap with our two other decks, I trusted Julian to lead us to victory. Even though the deck is iffy against creatureless combo decks, it has a lot of really good match-ups, that he ran into during the tournament: Bant Eldrazi, Blue control decks, Red-Green Valakut, Amulet Bloom.
Anyway, thanks for reading guys. In the meantime, I'm peering through the Amonkhet card list and I'll be back next week with some reviews on some Amonkhet cards which I feel show promise. In the meantime, have fun exploring! Cheers!
---
Cards in the Articles
$38.99

$32.99

---
Articles you might be also interested
Simon Nielsen suggests some great decks for the upcoming RPTQs, featuring Team Unified Standard!
Zen Takahashi recounts his experience at GP Sydney!
Is there value in skipping an event? Occasionally, Simon (Nielsen) says!
---
---