Griselblade Remade
Welcome back everyone to another installment of Legacy Lessons. This week's article is a direct follow-up to last column which is here. But instead of looking at what didn't work it's not time to look into one of the most enjoyable decks I've played in a very long time.
Due to several comments on my last article, let me get this out of the way first: This is not supposed to be the next best deck. I'm very well aware that it isn't and it wasn't even intended to be such a thing. But one has to understand that it isn't really possible to just come up with a new best deck. The realm of brewing is reserved for interesting, powerful and enjoyable decks. And I believe this deck to be one of the better brews to come out of Legacy in long time. Will it dethrone Miracles? Of course it will not. But that was never the point.
But let's just go straight to the deck itself, shall we?
The Deck Name

The first problem one has to face with any reasonably new deck is quite obviously the name. I've always tried coming up with creative, funny and clever names but to be honest, it never really worked out that way. That's why it might be the safest choice to go with something as boring as EsperShow or GriselBlade but I'm totally up for any suggestion concerning the name!
The deck itself doesn't really fit into any category we have out there, yet. It isn't really a Stoneblade deck, and it most certainly isn't a Show and Tell variant. Well, it's a little bit of both. With the exception of Food Chain, which fits the description rather perfectly, there aren't many Combo-Control decks in Legacy. One is either a control or a combo centered deck, hardly both, unless you count Entreat the Angels as a combo.
Griselblade's Positioning

Griselblade is an attempt to occupy this space in the Legacy metagame. Admittedly, this try comes with a couple of up- and downsides. Firstly, no matter how well integrated an additional plan may be, there'll always be more situationally dependent cards in your deck compared to a single-strategy deck. Naturally, one would try to use a package of cards that represents a different gameplan that doesn't necessarily come with a 20 card deal. The two options that come to mind in Legacy are a Reanimate package or Show and Tell. To be perfectly honest, I am currently also in the process of testing the Reanimate one but for the past few weeks I decided to give the Show and Tell variant a try.
The idea is to create a deck that can hold its own while playing the grindy game. Additionally, one tries to have a second game plan that is intrinsically different from the first one. This means that it should try to achieve something that isn't covered by the primary game plan, while also trying to not fall victim to the very same cards.
In this very deck here, the base deck is Esper Stoneblade, a slow and grindy deck. But why is it Stoneblade, and not Shardless or Miracles?
This is due to a couple reasons, most of which I have alluded to in my last article. But I'll still reiterate the most important points here: Discard and countermagic is a combination that is perfectly suited for a Show and Tell based combo approach, which is an avenue that is crucially underexplored in Legacy.
Secondly, Intuition is a very powerful card in Esper control as it allows for long grindy battles with multiple Lingering Souls while also giving access to a tutor for specific situations as it can grab literally any card as long as you have three of them left in your library. Combining this with Snapcaster Mage makes it quite extraordinary. For more detailed answers, please visit the antecedent article.
Before we're getting into more detailed strategy, here's the list I've currently been playing.
Philipp Schönegger's Esper Stoneblade
Legacy by MTG Mint Card
The Untouchable Maindeck

I believe the maindeck to be pretty fixed, to be honest. It runs on the old principle of cutting down on lands while increasing the cantrips. This trick isn't anything new, but it's been working for pretty much every single deck in Legacy, and Griselblade is no exception. Having more Ponders doesn't only eliminate the possible mana constraints that might arise with a land count as low as that, they also enable the pilot of this deck to regulate the draw steps more than usual, resulting in less awkward draws, which is of outstanding importance for this deck, due to its several avenues of play.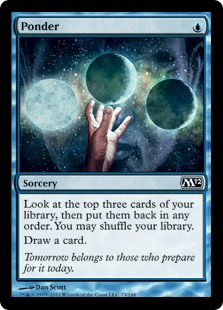 Intuition forces certain parts of the deck in groups of three, as it's important due to obvious reasons. Being able to grab three Lingering Souls in a game that is set to go on for a while is a power play under any circumstance. Additionally, being able to play the Stoneforge Mystic + Snapcaster Mage game is crucially important in certain match-ups. A very sizable percent of the matches played are actually won without ever drawing into or committing to Show and Tell at all. In order for this to work, a certain percentage of the deck has to be able to function by itself.
It wasn't possible to include any planeswalker in the mainboard which is due to the tight space that 40 non land cards present. I firmly believe there to be no more slot in the maindeck that could be used to include cards like Jace, the Mind Sculptor, Karakas, Academy Ruins or any other utility card.
I haven't been able to find a more streamlined version of the main 60 cards and I'd highly encourage everyone starting out with this deck to start with these 60 cards.
Sideboard Possibilities

The sideboard is a different story, though. There are a couple things that I would see as fixed. One is the good old package of 3 Flusterstorm and 3 Vendilion Clique that I've been using in Miracles for several years now. These cards are highly situational across different match-ups but outstanding cards when playing against a certain type of deck.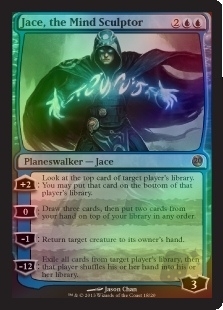 Additionally, this deck certainly needs some kind of planeswalker card in order to play the control game in certain match-ups and scenarios. I've given other planeswalkers a try but hardly any card in this category is a match for Jace, the Mind Sculptor, so I'd definitely advise playing some of those, even three if your metagame is a rather slow one. A quick tip as this has come up way more often with this deck than with any other blue control deck I've played: Remember that Jace can bounce your own Snapcaster Mage. This can be quite crucial if you had to use Intuition to grab Swords to Plowshares and are now running out of removal for the lategame. Bouncing Snapcaster Mage to cast Swords to Plowshares is quite a strong play that often gets overlooked.
Zealous Persecution, Surgical Extraction, Disenchant, Engineered Explosives, Supreme Verdict, Council's Judgment and Disenchant aren't really what I'd consider fixed slots.
I'm pretty sure that these cards should most certainly be included in the deck, but the configuration is heavily dependent on what you're trying to beat. I've found this setup to work reasonably well, but there might be space for improvement. The basic idea is that many of those form pseudo groups of three.
Two of those groups would be: Disenchant, Engineered Explosives and Council's Judgment for artifact/enchantment removal or Engineered Explosives, Supreme Verdict and Council's Judgment for additional creature removal. In some scenarios, Zealous Persecution can also work as such. Additionally, you can also grab Engineered Explosives, Council's Judgment and Snapcaster Mage if you have to deal with a permanent that cannot be hit by Disenchant.
Granted, it doesn't have to be this very configuration, but I'd strongly advise keeping your sideboard in increments of threes, so that your Intuition has more options, making it a stronger card all around. Having them split up also enables you to board some of the cards that are in package of three and not others, depending on the match-up. If you had three Disenchant and you wouldn't want to bring Disenchant against a deck that you'd like Engineered Explosives and Council's Judgment for, you understand why diversifying is of importance.
Piloting It

So, how do you play this deck, one might ask?
In some games it's pretty straightforward. That's the ones where you don't really see the other half of the combo and you just play a Stoneforge based attrition game or plan to smash Show and Tell as fast and as securely as possible. Now, things don't always work out this way, and this is where the true beauty and one of the essential strengths of this deck lies: Your opponent has no idea what is going on. It's pretty comical at times, when you just Ponder into a Stoneforge Mystic, then fool around a few turns with Batterskull, and once they deal with it you just cast Show and Tell. The looks on your opponents faces will be priceless, I promise you.
A very important factor of playing this deck is having a plan, especially with your cantrips. As soon as you have any idea what your opponent might be on you should be committing to a plan. If you know that your opponent is playing a white based control deck that can have both Swords to Plowshares and Karakas you probably don't want to go for Show and Tell as fast as possible and should therefore prioritize other plans. Many times you'll just have one of the combo pieces while the rest of your hand is playing the control game. When you're casting another Brainstorm or Ponder you have to decide whether it's correct to hold on to a Griselbrand or a Show and Tell and hope to draw the other half in time. This is largely dependent on what match up you are playing and what your current stance is.
Generally, it's a good idea to play the Stoneblade plan first, opting to go for Show and Tell in the mid- lategame, unless you have a hand that can support the Show and Tell plan beautifully, which happens. It's also quite amusing to cast Show and Tell with Plains, Swamp and Island. But as the numeric card value of your combo pieces is comparatively low, you'll be forced to play control first either way most of the time.
That being said, this deck is probably the best home for Snapcaster Mage in all of Legacy. On the one hand you have Swords to Plowshares, Thoughtseize, Ponder and Brainstorm as good cheap targets that can be used in all kinds of different scenarios. On the other hand, you have Intuition that also synergizes well with Snapcaster Mage. Additionally, you can even flashback Show and Tell with it, making this card one of the key cards in the blended space this hybrid offers.
There are a couple of interesting things when it comes to sideboarding. Firstly, it is largely dependent on what your opponent saw in the first game. Was the game over before your opponent saw what you were playing? Did you show the Stoneblade part? Did you show Show and Tell? It therefore isn't possible to have boarding plans for all match-ups as it would require several plans for each match-up. That's why I've decided to give you a few plans that should be applicable for many match-ups all across the Legacy spectrum. Choosing the right one is solely dependent upon what your opponent saw and what position you find yourself most comfortable in taking.
A) The Grind Approach
Your main plan is to abandon Show and Tell due to your opponent having seen the combo and/or because you assessed that Griselbrand will not be of much use here, which can be due to Karakas, for example. Now, the basic structure will look like this:
-3 Griselbrand
You can then add several changes, depending on what you're playing against. If your opponent doesn't rely on creatures you can add the following:
+1 Disenchant
If your opponent is playing creatures and you still don't want Show and Tell, go for this in addition to the basic plan mentioned above:
-3 Thoughtseize
+1 Disenchant
Another option would be to go all in on the grind plan and cut all Force of Will, as they provide card disadvantage. This way you can keep your playset of Swords to Plowshares and Discard or any configuration in between. And while shaving Force of Will might be a good idea here and there it isn't something that I would recommend for this deck, as there are a couple of cards that are rather hard to handle, and while you have the trio of Disenchant/Engineered Explosives/Council's Judgment to deal with such things it's very often not the best idea to go all without countermagic, even when grinding. Add to that that you now don't have the ability to bring Griselbrand into play and keeping Force of Will doesn't sound that bizarre anymore.
B) The Combo Approach
You have assessed that the slow and grindy approach isn't going to be the best way to win this match? Well, don't worry, there's a good way to take. The basic plan is the following:
-1 Plains
+3 Flusterstorm
Now, this plan can be changed accordingly to what you're actually facing, but in most matches where you want to be relying on Griselbrand, creatures that your opponents might be playing won't be too much of a problem. This is very often a valid approach when playing against other combo decks or certain strokes of control. Depending on what you're up against, there are several cards that might also be worth a slot such as Surgical Extraction.
C) The Hybrid Approach
My favourite approach of all of them is the hybrid approach. Your opponent might or might not have seen all facets that your deck has to offer and you'd like to keep him guessing. There are several variants of this, the first is for a creature based deck.
-3 Thoughtseize
-1 Counterspell
+1 Disenchant
If your opponent isn't relying that heavily on creatures but you still want to abuse Lingering Souls while having Show and Tell, I'd advise this plan:
-1 Plains
+3 Flusterstorm
Now, given these are only three possible ways to approach match-ups but I believe that these are very good starting points for any match-up imaginable. I personally board out one land in most match-ups that do not involve Wasteland or Stifle. It's either a Plains when I don't plan to actually hardcast Griselbrand or it's a Fetchland if do. But I'm aware that most of my readers are a little more risk averse than I am, as I've seen time and time again when advocating to cut two Plains in the Miracles mirror. And many of the slots are very dependent on which cards your opponent saw and whether or not you are able to be on the play in games two or three. They aren't meant to be set in stone, but rather guidelines for how one might be able to approach a certain slice of the metagame.
Switching Gears
Additionally, when thinking about which game plan to execute, one should also take into account whether one is on the draw or on the play. Naturally, being on the play greatly increases the power of discard spells, which in turn benefits the Show and Tell plan. Being on the draw also means having one less card, making the grind plan less attractive over all, unless you are facing a Daze/Wasteland type of deck. To round this idea up, adding discard is also not the best thing to do when you're trying to play the grind game.
Being on the draw, however, reserves all these things and definitely favors the Stoneforge Mystic plan that relies on card quality and advantage over big game winning spells like Show and Tell.
Let me give you two boarding plans from actual testing rounds.
Scenario 1: Playing vs BUG Delver
They have Discard, Daze, Wasteland and Liliana of the Veil. Naturally, this isn't really where you want to be with regards to Show and Tell. In this real scenario, I managed to win game 1 with Griselbrand, regardless. Now how does one board?
Given that we've shown our opponent Show and Tell means that this plan isn't going to be at its best. Couple this with the fact that they are pretty well equipped to deal with Show and Tell and Griselbrand and take into consideration that we are on the draw means that we have a rather easy boarding plan.
-3 Griselbrand
-3 Thoughtseize
-2 Intuition
+3 Flusterstorm
+1 Disenchant
The plan is to grind our opponent out by playing the control deck. Intuition isn't kept in as we do not have any further combo potential and would therefore only get Lingering Souls. Force of Will is kept in order to keep up with an eventual T2 Liliana which might be a problem, given possible combinations of our hand. And just hoping to hit Lingering Souls won't do it more often than not. Additionally, our opponent might have a deck that is geared towards a more combo-ey approach and might have difficulties dealing with such a creature centric approach.
Scenario 2: Playing vs Storm
If we're not drawing into the Griselbrand combo fast enough in game 1, this match-up is going to be a rather hard one. In this very scenario, we lost game 1. Now, if you're asking a Storm pilot what they think about the card Stoneforge Mystic they might not want to answer due to courtesy. It's slow, rather ineffective and can easily be dismantled by discard. It has its merits when paired up against Empty the Warrens, but in this scenario we've been playing vs an ANT/Grinding Station type of deck, which means that our main concern has to be Past in Flames.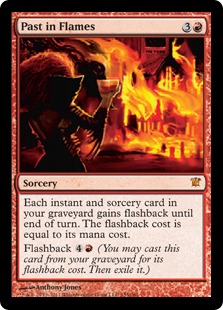 In this scenario we have to remove as much clutter as possible and try to fill our deck with nothing but good cards. Gladly though, our sideboard is perfectly equipped to do such a thing.
-1 Batterskull
-1 Plains
+3 Flusterstorm
+1 Disenchant
The main plan is to either execute Show and Tell with a certain amount of lands left open. Many games are also won with Vendilion Clique or Snapcaster Mage, backed up by discard and countermagic. There has to be some removal left for an eventual Xantid Swarm or the rare Empty the Warrens, but diversifying it this way means that we have a good chance to at least having a suitable out in the deck, when presented with a threat of this kind.
Seeing these two boarding plans shows pretty quickly how adaptable this deck is. The deck you will be playing in these two scenarios is as fundamentally different as one can imagine. Keeping all the aforementioned information regarding what your opponent has seen, whether you are on the play or on the draw and which part of your deck is naturally better set up to defeat your opponents means that you can and will dictate how game 2 and 3 will be going, not the other way around.
Granted, there are some match-ups that this deck struggles with, Lands for example. But in the overall scheme of things I'd say that Griselblade is a rather well positioned deck in pretty much any Legacy metagame that has a game against most decks and can quite beautifully leverage your skill level which is due to the high amount of choices to take. If you are getting a bit burned out from winning with Miracles, I'd highly recommend giving this a try.
Tips & Tricks

To close things out, let me give you a couple of tips, tricks and entertaining stories that I've accumulated while playing with this deck while also offering some generic advice on how to use the cards that are present in the deck.
1) Show and Tell can put more than just Griselbrand into play. And I don't mean to say that any other card is actually a good idea to put into Show and Tell. What I'm saying is that some situations warrant different ways of playing. I've had several games against different kinds of Delver where I put in Batterskull into Show and Tell once my Stoneforge Mystic had died. It's not the best plan, but it works.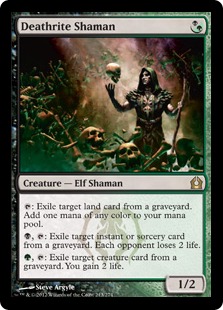 2) If your opponent has Deathrite Shaman and you plan on casting Lingering Souls while having five lands in play, you can flashback Lingering Souls without giving your opponent a chance to exile it.
3) If your Germ token has died and you plan to return Batterskull to play with your Stoneforge Mystic, activate your Stoneforge Mystic first, and bounce Batterskull in response, dodging a potential removal spell to your Stoneforge Mystic in response to the bounce of Batterskull.
4) As mentioned above, remember that you can bounce your Snapcaster Mage with Jace, the Mind Sculptor. This can then lead to you flashbacking Show and Tell.
5) You can equip Griselbrand. I know you have never seen it before, but what's scarier than Griselbrand? Well, Griselbrand with an Umezawa's Jitte or Batterskull equipped to it. And once it's both you start breaking several rules of fairness at once.
(credit: Julian Knab)
6) And while we're talking about things you've never done before. You can also sacrifice Griselbrand to your Cabal Therapy. And yes, I've done this already. It turns out to be the correct play at times.
7) When casting Cabal Therapy, do not name the card before your opponent has assured you that Cabal Therapy resolves. First they get to decide whether it resolves, then you name the card. I'm just mentioning this because I see this mistake being made far too often.
8) Getting back to doing to the unthinkable. Yes, you can hardcast Griselbrand. And yes, I've also done this several times. It feels pretty good, to be honest. Though I'd imagine my opponents wouldn't agree.
And that's it for this week. I hope you enjoyed it and will give this deck a try. I can promise you that you'll have a great time playing it as it's simply the most enjoyable deck I've played in ages. If you have any questions, comments or ideas about this deck, make sure to share them below. I'd love to hear reports from you guys who took this deck out to play. Until next time!
---
Cards in the Articles
$85.99

$77.99

---
Articles you might be also interested
R/B Hollow One made waves in Modern, now let's try out two versions in Legacy!
Zen Takahashi shares the Modern and Legacy decks he would play in the current metagame.
Zen Takahashi shares his current deck choices for Standard, Modern, and Legacy!
---
---