Standard Revolution: Dominaria
Hello guys,

Life has been catching up with me, and I did not have much spare time to play Magic. While I busted couple Team Grand Prix in the last couple weeks, it is time for me to refocus on the game. Dominaria hits the shelves today, so I picked a handful of cards that I believe they are going to give some impact to Standard!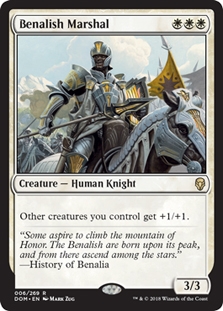 Benalish Marshal is an anthem effect and a solid body all in one. I talked about different token strategies in Standard recently. I can see Benalish Marshal being one of the best upgrades to those decks.
The triple white cost is a big concern, but the newly printed enemy duel land provided a significant upgrade to the mana base. While the extra body is a bonus, it also becomes easier to remove and able to cost som blow out in mid-combat.



Dauntless Bodyguard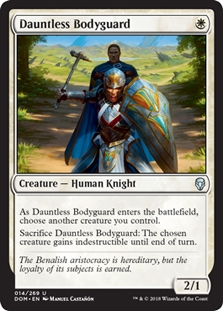 Dauntless Bodyguard is a two-power one-drop that could bring extra value to the late game. Casting a significant threat together with Dauntless Bodyguard could lead to a massive tempo swing.

Unfortunately, it only provides indestructible so you cannot protect the creature from Cast Out or Vraska's Contempt. It is still one of the best aggressive one-drops we could have in the format, and it will see play in lots of white aggro decks.



History of Benalia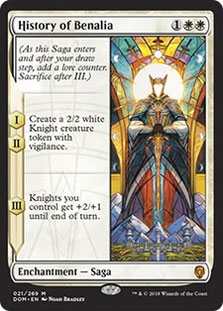 History of Benalia looks like the Saga being pushed in the set.

By itself, it's a neat two-for-one. The Inspiring Charge effect is very powerful. We might not have enough Knights at the moment. If we curve out withDauntless Bodyguard, Knight of Grace into History of Benalia, we can set up a fifth turn kill easily.

Also, double History of Benalia is a good combo by itself.



Lyra Dawnbringer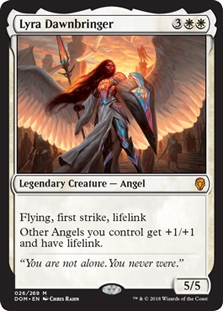 Do you still remember the glory days of Baneslayer Angel? It's tough to race a 5/5 flyer with lifelink. Lyra Dawnbringer is strong enough to stabilize the board all by herself.
I can see her being played in a good stuff deck, where you play tons of threats and force your opponent out of removal. Another strategy is to play her in token decks, and opponents will have a hard time deciding whether or not to keep in (spot) removal.



Syncopate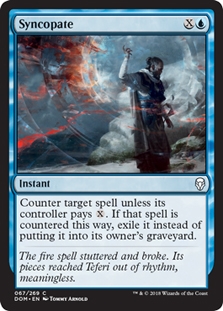 This is the counterspell which Blue sorely needs in the format. Blue mages gain a new tool against Chandra, Torch of Defiance or Hazoret the Fervent. It also cleanly answers Scrapheap Scrounger and Earthshaker Khenra on the play.

We may not want to play four copies all the time, but at least two copies are decent.



Fungal Infection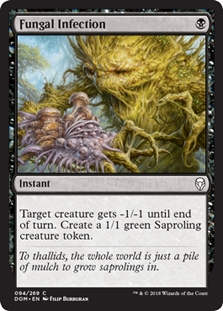 Fungal Infection is a neat sideboard card.
Toolcraft Exemplar, Bomat Courier, Glint-Sleeve Siphoner, Adanto Vanguard and Earthshaker Khenra are great reasons to include Fungal Infection in your sideboard. It might overlap with Moment of Craving, but Fungal Infection has the potential of offering a two-for-one value which Moment of Craving does not.



Goblin Chainwhirler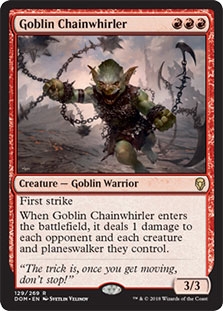 There are token strategies in the format, along with tons of small creatures. Goblin Chainwhirler is one of the best cards to stop the horde from overpopulating. While I definitely miss Rampaging Ferocidon, Goblin Chainwhirler has more than made up for it. The drawback is its prohibitive mana cost, but it is still an excellent card.



Siege-Gang Commander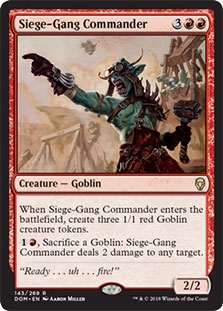 This is not the first time Siege-Gang Commander has impacted Standard. It is a classic threat which offers a lot of value. You have to answer the 2/2 body immediately because if you let your opponent untap, expect a lot of havoc coming your way. Even if you do answer it, your opponent is still left with three 1/1 tokens, and you suffer from severe card and board disadvantage.
Siege-Gang Commander is a great card, especially against removal-based matchups. While it shares the same cost as Glorybringer, they are threats of entirely different types. This enables the Red mage more options and makes sideboarding decisions more difficult for your opponent. Are you bringing in one single big creature or four small ones? There's always a chance that your opponent sideboards wrongly!



Adventurous Impulse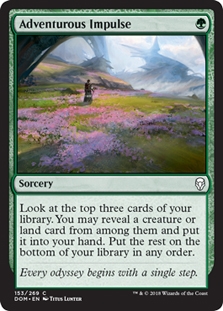 Adventurous Impulse is very close to Oath of Nissa, which greatly enhanced the consistency of Green decks. It allows you to cheat on land counts at the early game and allows you to pick up a threat later on. I expect Adventurous Impulse to be played in lots of Green midrange decks.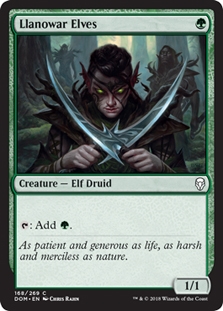 Llanowar Elves is likely to be the most impactful card in Dominaria. First-turn mana acceleration is simply too good, regardless of the format. We saw Green decks in Modern and Legacy being built around Noble Hierarch, Deathrite Shaman and Green Sun's Zenith (Dryad Arbor).

A turn Llanowar Elves creates a huge tempo advantage. This makes us want to revisit Green decks in standard. The most obvious cards to power out on the second turn are Jadelight Ranger, Steel Leaf Champion, and even Nissa, Steward of Elements. A second-turn Planeswalker usually means "Game Over" for a control deck.



Steel Leaf Champion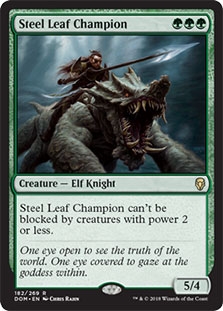 If you like casting Noble Hierarch into Woolly Thoctar,Llanowar Elves into Steel Leaf Champion feels exactly the same. Three mana for a 5/4 monster is great! While I would prefer having Trample on it, unblockable is also a great ability as it prevents chump blocking.



Shanna, Sisay's Legacy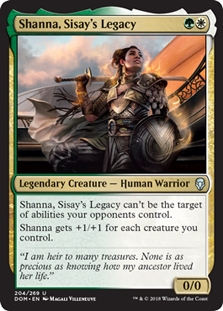 Shanna, Sisay's Legacy is one of the cheapest enablers for Mox Amber, which makes her a worthy mention for future reference. However, there aren't enough such cards at the moment to make Mox Amber overpowered.
She's a great two-drop for token strategies, and her unique Hexproof ability can protect her from dying to Fanatical Firebrand or Walking Ballista.



Teferi, Hero of Dominaria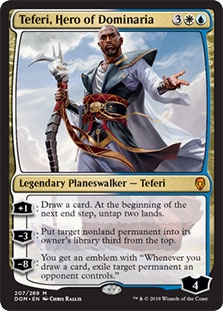 The first ability makes Teferi, Hero of Dominaria feel like a three-mana Planeswalker. Unlike Garruk Wildspeaker, Teferi cashes back your card investment right after it hits play, and you get to untap two lands too!
The crucial thing is to make use of the two untapped lands. Cast Down, Seal Away and Abrade are efficient two-mana instants which we can use to protect Teferi. It will be played in some White-Blue Control decks as a card advantage course and as a win condition.



Enemy Check Lands

Enemy checklands provide us additional mana fixing for enemy color pairs and enhances these mana bases greatly. For example, a Blue-Red deck could run 4 Spirebluff Canal, 4 Sulfur Falls, 9 Mountains and 5 Islands to create a 22-land mana base.
That way, we could have 13 untapped Red sources on the first turn to cast a cheap burn spell, and you also have 14 basic lands to support your four Sulfur Falls. Also, you have 13 Blue sources which provide a good quantity as a support color. If you're playing 24 or 25 lands, you can fit in some utility lands such as Field of Ruin or Scavenger Grounds!

I think the enemy check lands gave enemy color decks a considerable boost and it will not surprise me that enemy colored aggro decks take over during the early stage of the Standard metagame.

Anyway, here are the cards which I believe will see play in standard. The format is currently quite deep, and with Dominaria kicking in, it is a great time to be brewing up a new deck! Good luck!

@leearson
---
Articles you might be also interested
Zen Takahashi shares a bunch of precious tips on piloting Turbo Fog in Standard!
Zen Takahashi writes about his favorite Legacy deck, Esper Stoneblade!
Simon Nielsen shares his preparation process for the previous Modern Grand Prix.
---
---