Modern Revolution: Ixalan
Hello everyone,
First of all, I would like to anounce that I am passing down my Hong Kong Captaincy this year. The coming year will be a transitional year for me where I will be making a bigger commitment to my partner. The World Magic Cup clashes with our schedule. While I will not be at the event, the "hottest" Pro Tour Hour of Devastation Top 8 competitor, Yam WIng Chun, would take my place. I am confident that he will be able to lead Team Hong Kong to compete at the highest level.
Today, I would like to talk about some Modern cards in Ixalan. Ixalan is a tribal set and tribal decks are not new to the format. Let's not waste any time and start talking about Ixalan Modern cards!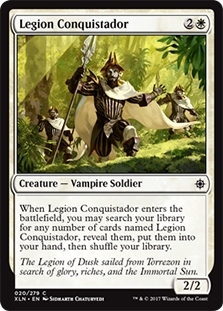 Squadron Hawk 2.0. I know it costs 1 more and it does not have flying. Yet, it might become a reliable strategy when you have double the number of cards which enable a strategy. I started to wonder if Oketra's Monument might actually be playable in Soul Sisters as it can provide a solid source of card advantage. It might be a fringe strategy but as you keep adding good cards into the deck, it might eventually become a competitive deck.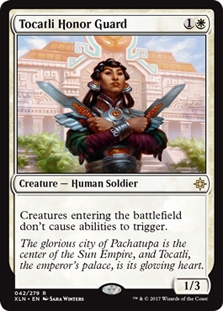 We have Hushwing Gryff in the format but three mana and two mana is a huge difference in Modern. The hatebears strategy is about disrupting opponent's plays as early as possible. In Modern, lots of creatures are being played because of their "enters the battlefield" ability. Tocatli Honor Guard shuts them down entirely. Being a 1/3 means it is not as aggressive as other hatebears we have, but it can do some blocking duty when required. Overall, Tocatli Honor Guard is a good sideboard against certain matchup like Human Company decks or Snapcaster Mage matchups.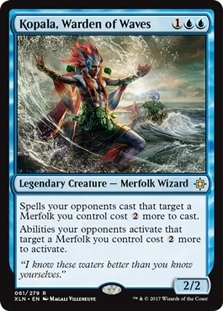 Kopala, Warden of Waves could be a direct replacement for Kira, Great Glass-Spinner in Modern Merfolk. After Abrupt Decay was printed, the value of Kira went down a little. Kopala demands at least two mana extra from your opponent's removal, even if it is Abrupt Decay. This does not lead to direct card advantage but the tempo gain should not be overlooked. Also, the Merfolk synergy is extremely important because Kopala itself can be pumped by other Merfolk Lords as well. These reasons make Kopala better than Kira.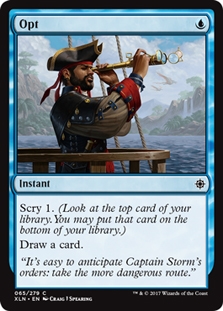 Opt could be the best card in Ixalan for Modern. The good cantrips for card selection in Modern is all at sorcery speed, until Opt came along. Being an instant means it could work with Snapcaster Mage much better, since it can be cast at instant speed.
With Serum Visions, there are many times where you have to tap out for a turn to smooth your draw. In a power format like Modern, being tapped out for a turn can hurt you so much. Once you fall behind, it could easily snowball to lots of damage from your opponent. With Opt, the control deck can operate at instant speed which makes counterspells much better.
Opt could also be an option for any combo deck which try to stall games with Remand. I can see Remand becoming popular when Opt enters the format.
With fetchlands and Thought Scour, it is not impossible to flip Search for Azcanta by turn three. However, I think it might not be the way to abuse it. Looking deeper into the card, Search for Azcanta encourages us to play long game. It provides mana and card advantage when it transforms, which sounds like a perfect card for control.
Note that Search for Azcanta's flip trigger is a "may". I think we can always play it as a two of utilizing both sides of the card.
While Dinosaurs might not be good enough to build as a tribal in Modern, one mana digging for 5 cards is a good mana ratio on itself. We used Ancient Stirrings in green-based Tron decks to dig up Tron pieces. Sure Commune with Dinosaurs is not as good as Ancient Stirrings because it can also dig for big spells such as Wurmcoil Engine, Karn Liberated, and so on but the function of Commune with Dinosaurs is not that much different from Ancient Stirrings in the early game.
I can see Commune with Dinosaurs being the fifth or sixth copy of Ancient Stirrings.
Gaea's Cradle is our first thought when we first saw the preview of Growing Rites of Itlimoc. It seem like a natural fit into Modern Elves or some sort of Company deck. If you have the perfect hand of Elves, you could go turn 1 Llanowar Elves, into turn 2 Heritage Druid and Dwynen's Elite followed by Growing Rites of Itlimoc.
By the end of the turn, you will transform Growing Rites of Itlimoc into Itlimoc, Cradle of the Sun and tap it for four mana to cast Collected Company. With all the mana, as long as we can find Ezuri, Renegade Leader, it is easy to overrun our opponents as early as turn three!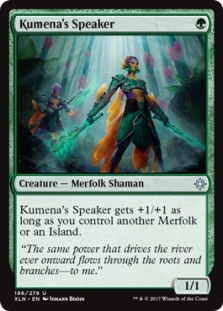 Finally an one drop two-powered Merfolk!
Curving out one-drop Merfolk into Lords are always the best thing we can do for an tribal deck. Being a green card is the biggest concern. While it is not hard to support it with a fetch land mana base with Breeding Pool and some number of Cavern of Souls, the main question remains whether it is worth it?
Assuming we need 14 green sources, we can play 10 fetch ands, 2 Breeding Pool and 2 Cavern of Souls. This means we might need to take a couple of damage from our mana base. Sometimes, turn one Aether Vial can also do the trick, but it is not like you will always have it on turn one.
Adding green to the deck does open the option of playing Collected Company as well. Master of Waves used to be "you win the game", but now it is less and less like that because many decks are able to kill it. This means that Collected Company could become the four-drop of choice in Merfolk. I think Kumena's Speaker and Blue-Green Merfolk is definitely worth trying out.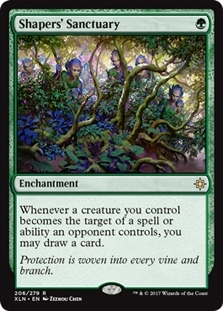 Shapers' Sanctuary is a great sideboard option. Decks that rely on spot removal might have problem against creature decks once Shapers' Sanctuary is in play. Every removal they cast could get you both tempo and card advantage. I believe Shaper' Sanctuary will be used in decks like Elves, Zoo or even Affinity to fight against decks with lots of spot removal.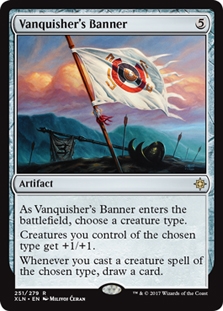 Do you remember Elf Ball? Glimpse of Nature might be banned but Vanquisher's Banner could do the trick for us. Once we untap with Vanquisher's Banner in play, we can go wild with a combination of Heritage Druid and Nettle Sentinel.
I like it that Vanquisher's Banner is a good tool against mass removal too.We can easily recover from board clear starting with 1 or 2 elves. The anthem effect is also relevant when it comes to racing.
Conclusion
Ixalan offers lots of tribal-related cards. I believe Merfolk and Elves are the decks which gained the most. The latest trend is jamming Smuggler's Copter into all sorts of tribal decks as a tool to combat board sweepers and to also smooth our draws. By the time this article is published, I will be in Boston getting ready for the World Championship. Wish me luck and I hope to bring you guys some good news by the end of the week!


@leearson
---
Cards in the Articles
$347.99

---
Articles you might be also interested
Simon Nielsen shares his preparation process for the previous Modern Grand Prix.
Simon Nielsen shares his preparation process for the previous Modern Grand Prix.
As usual, Lee Shi Tian picks out the key cards from Core Set 2019 which may impact Modern.
---
---