Modern Revolution: Dominaria

Hello everyone,

Last week, I covered some Dominaria cards which may have an impact on Standard. This week, I will be doing the same for Modern.
Dominaria does not lack in good cards, and there are plenty of options worth discussing. Some of these cards are also great in Standard, but I choose to save those cards for this article because they have an even higher impact on Modern. Let's go over these cards right away!



Karn, Scion of Urza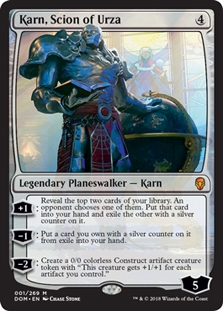 Karn, Scion of Urza is the card which I believe impacts Modern more than Standard.
The first deck which can house it easily is Affinity. We have Master of Etherium as the top end threat, but now we have an additional tool in the arsenal. Karn doesn't provide an anthem effect, but it is a Planeswalker, which is extremely difficult to deal with. Not only do we have Etched Champion to combat removal spells, Karn is also a card which demands two answers due to its resilience.
With Mox Opal and Springleaf Drum, it is possible to power out a turn-two Karn, and in very rare cases, a first-turn Karn! Affinity hasn't been popular lately and had been lying low, waiting for the perfect window to make a comeback. Karn, Scion of Urza might bring Affinity back to the top tables again.
It's also a good sideboard card for any artifact-based combo decks. It gives you a solid "Plan B" while digging for cards you need. Regardless, a four-mana colorless Planeswalker can fit into lots of decks as long as the deck can utilize all three modes effectively.



Board the Weatherlight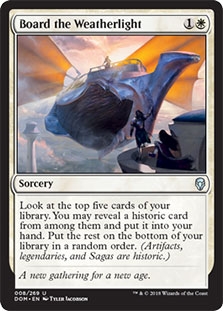 Board the Weatherlight is not Ancient Stirrings but it digs for five cards, and it can find Artifacts and Legendary Lands! This increases the consistency of artifact-based combo decks with eight copies of "tutors".
While the mana cost is a huge constraint, I can see it being played in some form of Open the Vaults / Eggs decks to help find Krark-Clan Ironworks. We witnessed Matt Nass having great success lately with KCI Combo, so Board the Weatherlight is a card to consider.
As for Legendary Creatures, finding Sram, Senior Edificer in Cheerios does not sound bad at all. This helps the deck achieve turn-three kills much more consistently.



Merfolk Trickster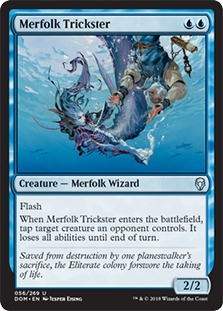 Merfolk Trickster adds a little more "flash" action to Merfolk. While 5C Humans is the best Aether Vial deck at the moment, Merfolk players gain a new toy. The tap ability gains you a lot of tempo when you're trying to race Tarmogoyf or meddles with your opponents' mana dorks such as Noble Hierarch.
It also combos with Harbinger of the Tides perfectly. With so many ways to mess up combat math - something which Merfolk has always been good at - we might see it being back in the metagame.



Precognition Field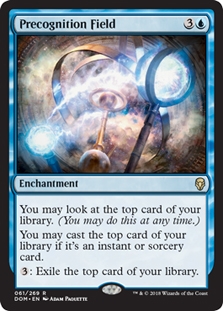 I was a little surprised that Precognition Field isn't getting that much public attention. I think that this card was designed for Storm, a deck filled with lots of Pyretic Ritual effects and cantrips. While I'm not sure if it's a good main deck card, it should at least see play in sideboards.
Precognition Field is a great way to combat graveyard hate and discard spells. Enchantments are generally more difficult to deal with, especially when your opponents are trying to fight your other spells.
I believe a third-turn Precognition Field usually guarantees a four-turn kill most of the time. Your second-turn Baral, Chief of Compliance already demands an immediate answer. Otherwise, the game is over on the next turn. Having another angle of attack in the form of an enchantment makes for a solid strategy.



Cast Down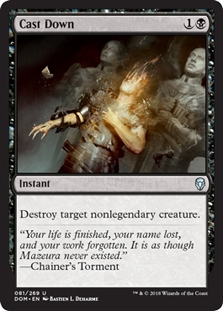 Cast Down is another card that impacts Standard, but impacts Modern even more!
Terminate and Victim of Night have seen play before, but their color requirement is really demanding. Cast Down is decent in Modern because there aren't that many Legendary creatures in the format.
If you need a new option for your removal suite, Cast Down will certainly be a strong contender. It can destroy Death's Shadow, Hollow One, Mantis Rider, Tarmogoyf, Gurmag Angler, and more!



Goblin Warchief and Skirk Prospector
Goblins had been a casual deck in Modern for a long time, but the addition of these two cards might give it a huge push. While Goblins might not be Tier 1, it's still kind of scary with Goblin Rabblemaster, Goblin Piledriver, Legion Loyalist, and Mogg War Marshal.
We're still missing a Goblin Ringleader or something similar to give us some card advantage, but it's also possible that we can splash green for Collected Company or Lead the Stampede. Also, Shared Animosity is a great way to make use of your Goblin tokens!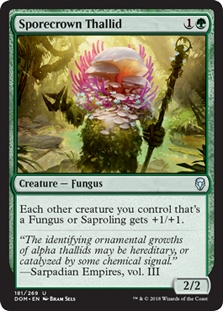 Finally, a Fungus and Saproling Lord!
Although there aren't enough creatures of these types to make a top tier deck, Sporecrown Thallid is a good start. The Merfolk deck wasn't built in a day! As time goes by and as more and more expansions are added to the game, we may have a playable Thallid deck one day.



Sylvan Awakening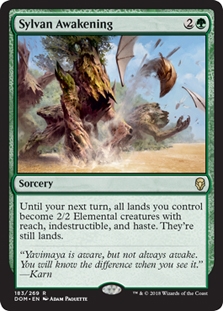 Turn 3: Jeskai Ascendancy.
Turn 4: Sylvan Awakening.
This sequence is a guaranteed win. You no longer have to accumulate three or four mana dorks by turn four, because Sylvan Awakening does it for you in a single card. You can easily fit this two-card combo into the existing shell, and we also won't have to worry about bricking with Fatestitcher.
I don't have a decklist yet, but I'll let you know when I do. =)



Damping Sphere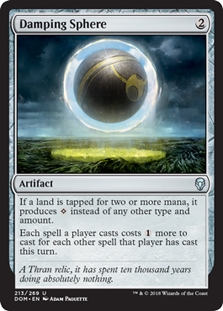 I'm going to say that Damping Sphere is the most impactful card out of Dominaria for the entire Modern format. It's a great card to hate out Storm, Tron, Amulet Titan, Krark-Clan Ironworks or any combo deck which requires you to cast multiple spells on the same turn. The fact that it covers so many matchups without taking up many sideboard slots makes it precious.
Grafdigger's Cage is a great example of a card which is used to combat graveyard strategies as well as Collected Company. This allows you to save on sideboard spots. Damping Sphere does the same, allowing you to cover more matchups with fewer sideboard slots.
The taxing ability of Damping Sphere is also good against an opponent who is trying to dig for answers, for example, with a pair of Serum Visions on the same turn. It ties up mana in a format where mana is so tight, so I think we'll expect to see Damping Sphere not only in Modern but other Eternal formats as well.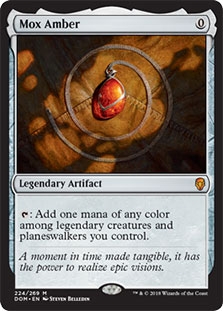 As history suggests, there hasn't been a mox that isn't broken. The cycle from the Power Nine are obviously busted, as well as Chrome Mox, Mox Diamond, and Mox Opal.
Mox Amber is the most difficult to break, but there are some cheap Legendary Creatures in Modern to make it work.
In White, we have Kytheon, Hero of Akros, Isamaru, Hound of Konda and Thalia, Guardian of Thraben. In Red, we have Zurgo Bellstriker and Kari Zev, Skyship Raider. As for Blue, we've got Baral, Chief of Compliance, Jace, Vryn's Prodigy, and Erayo, Soratami Ascendant.

These cheap legendary creatures allow us to abuse an early Mox Amber. Someone is going to break it in time to come, but right now it might have to take a back seat.

Anyway, that's all I have for this week. Dominaria certainly has plenty of great cards for all Constructed formats, and it has been a while since we've had such a powerful set. I hope everyone is enjoying themselves.
This weekend, I will be at Grand Prix Beijing. I did not play in lots of tournaments this season, and I don't have that many Pro Points. The new Pro Player Club is undoubtedly going to be challenging for myself and all APAC players, especially when I missed two Grand Prix Day 2's in a row. I hope this weekend will be an excellent opportunity for me to turn things around. Wish me luck, and I'll see you next week!

@leearson on Twitter
---
Articles you might be also interested
Zen Takahashi shares a bunch of precious tips on piloting Turbo Fog in Standard!
Zen Takahashi writes about his favorite Legacy deck, Esper Stoneblade!
Simon Nielsen shares his preparation process for the previous Modern Grand Prix.
---
---