Modern Revolution: Core Set 2019

Welcome back everyone,

Last week, I covered my top picks for Standard from Core Set 2019. This week, I will talk about Modern. Traditionally, core sets do not have much impact. However, this time around, there are plenty of good picks. Let's take a quick look!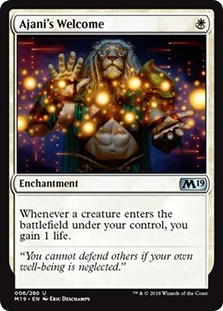 The Soul Sisters effects (Soul Warden Soul Attendant) can be stacked even greater now! With Ajani's Welcome, you could easily add extra life gain effects. It is a small effect, but it is 9th to 12th of this effect. When you stack the effect enough, it will become so consistent. Soul Sisters has always been a fringe deck in Modern and Ajani's Welcome provides an upgrade.

Militia Bugler

5C Humans is an aggro deck with great disruption. However, they were missing card advantage, and they were forced to compensate with that with a low land count and Horizon Canopy.

Militia Bugler could help fill out that gap in card advantage and dig for the bullet which you need. Combined with Phantasmal Image, you can tear through your deck and go wild with it. I think Militia Bugler is a natural inclusion in 5C Humans, at least 2 or 3 copies. It can also be played in decks like Abzan Company or Kiki Chord.

Remorseful Cleric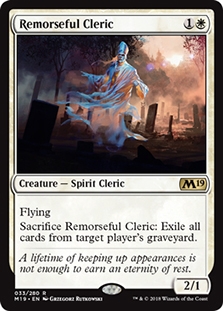 Remorseful Cleric is a great silver bullet for Chord of Calling.

Before Remorseful Cleric, we had Yixlid Jailer, Loaming Shaman or even Watchers of the Dead. However, these options are not as good as Remorseful Cleric. The 2/1 flyer is also good for beating down and it also fits into Mono-White Hatebear decks too.

Sai, Master Thopterist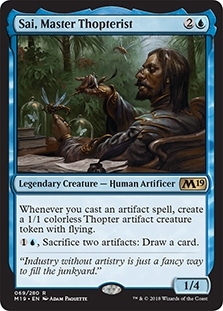 Krark-Clan Ironworks has proven itself to be a top contender in Modern. Sai, Master Thopterist not only generates an extra artifact for Krark-Clan Ironworks, he can also be an alternate win condition if an opponent has a nasty sideboard card which stops the combo.

I can also see Sai, Master Thopterist being played in Affinity because the Thopters offer extra reach. The card-drawing ability is also great to dodge removal and help dig for the big cards such Master of Etherium or Cranial Plating. The more zero-mana artifacts there are in the format, the more potential there is for Sai, Master Thopterist.

Supreme Phantom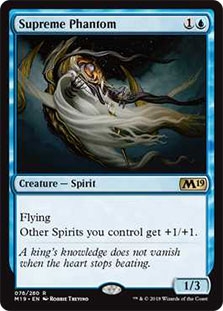 Bant Spirits is another fringe deck which arose after Spell Queller entered the format.

Supreme Phantom is the perfect 2-drop to turn Spell Queller into a 3/4 such that it is out of Lightning Bolt range. Also, it Mausoleum Wanderer into a Spell Pierce, which makes it way more relevant. Together with Drogskol Captain and Phantasmal Image, there can now be many lords in the Spirits deck to help them race.

Infernal Reckoning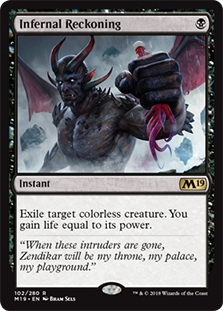 This is the sideboard card that we needed two years ago. However, I am a little disappointed it only hits creatures instead of nonland permanents. It could be a bit narrow, but it is still the best card we can have against Eldrazi and Affinity. Although decks which can use Infernal Reckoning are facing a downtrend, it's always great to have an extra hate card in your arsenal.

Alpine Moon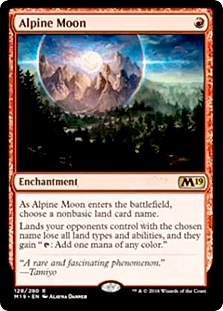 Finally! A Blood Moon effect which can race Karn Liberated on the draw! Losing the land subtype makes the set incomplete. Alpine Moon can also help fight Cavern of Souls if you're playing countermagic. Also, on another note, Alpine Moon could have applications in Legacy where Dark Depths is legal.

Goblin Instigator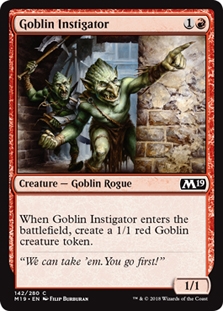 Goblin Instigator is similar to Dragon Fodder and Krenko's Command. However, one of the bodies being a creature means the mana cost can be reduced by Goblin Warchief. Mogg War Marshall had always been included in Tribal decks and I feel that Goblin Instigator is very likely to show up in Modern Goblins.

Elvish Clancaller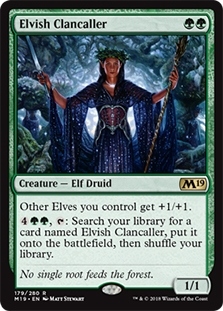 After so many years, we finally have a two-mana Elf Lord! There are a couple of Elf decks in Modern, and at the moment I think aggro Elves is the one I like the most because the format is filled with removal.

The ability of Elvish Clancaller is not that difficult to activate given that Elves is a deck filled with a bunch of mana dorks. Having a Lord which chains into more Lords demands an immediate answer from your opponent, making it a formidable threat.

Runic Armasaur

Runic Armasaur is a great value card for a 3-drop. You can draw a card when opponents activate their fetch lands. It is also great against decks like Affinity where there are lots of activations such as Steel Overseer, Arcbound Ravager, Cranial Plating, and so on. Grim Lavamancer is always a huge threat for green creature decks so Runic Armasaur could negate the card disadvantage.
Anyway, these are the cards I believe are worth testing in Modern. Beyond these, there are still a couple of great reprints such as Scapeshift, Crucible of Worlds, Omniscience and so on. Those cards used to be incredibly expensive due to the lack of supply, but now they're back to a reasonable price range. Don't miss out on the chance to get playsets of your own while they are affordable!

@leearson
---
Articles you might be also interested
Zen Takahashi shares a bunch of precious tips on piloting Turbo Fog in Standard!
Zen Takahashi writes about his favorite Legacy deck, Esper Stoneblade!
Simon Nielsen shares his preparation process for the previous Modern Grand Prix.
---
---