Tropical Fish

Ixalan has quite the tribal focus with Dinosaurs, Pirates, Vampires, and Merfolk all inhabiting the plane. As we first set sail to Ixalan it seems appropriate to start our brewing around these, beginning with Merfolk.

The Merfolk of Ixalan, like those of Ravnica, are Blue and Green. When I think of what a Blue-Green deck looks like I think of a tempo deck featuring Blue evasion and tempo spells alongside large Green threats. It's a recipe that has worked for years.

In Legacy for example, we commonly see the Delver of Secrets and Tarmogoyf paired with Blue tempo spells in Force of Will and Daze.
The Standard Merfolk

If we are going to make Merfolk work in Standard what options do we have and what are the payoffs for sticking to the tribe?

All the Merfolk that are going to be in Standard are from Ixalan with none being printed in previous sets. Looking at the spoiler, these are the ones that stand out.



Kumena's Speaker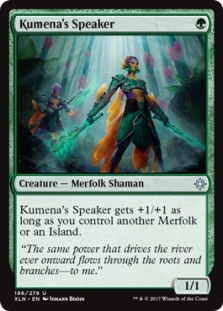 1 drops are going to be important in our tempo deck to get out ahead of the opponent. Kumena's Speaker should easily be a 1 mana 2/2 if we stick to the tribe and while not exactly a Wild Nacatl it will do the job.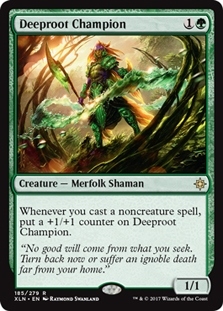 Another Green Merfolk that threatens to get big quickly. This card reminds me of Quirion Dryad, a key piece in the Blue-Green Miracle Grow deck from 2001. This innocent looking creature can quickly become a powerhouse in the right shell.



Merfolk Branchwalker

If the Explore mechanic is going to work in Constructed, this might be one of the cards that can do it. In most cases, this card will be a 2 mana 3/2 that scrys 1 and has the relevant creature type. There is only so much room for large creatures without evasion in our deck and Merfolk Branchwalker is just worse than Deeproot Champion and Kumena's Speaker.



Deeproot Warrior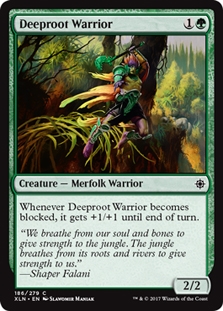 The stats on this guy look a little promising but if Merfolk Branchwalker isn't likely to make the cut than neither is this.




Shaper Apprentice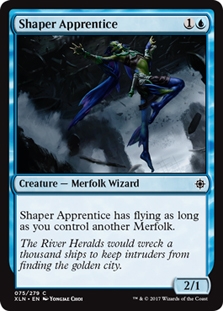 A 2 mana 2/1 flier isn't exactly groundbreaking but the evasion and relevant creature type are enough to get me interested.



River Sneak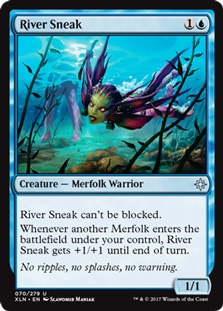 River Sneak is another reward for playing more merfolk and combines well with some of the spells coming up later in the article. I might be a bit too optimistic about this guy but with the right support I beleive it can work.



Kopala, Warden of Waves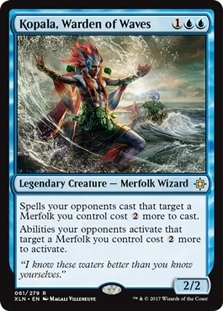 Another great payoff for sticking to the Merfolk tribe and a good curve topper. Kopala's protection from opposing removal spells works great with everything we've seen so far. That being said the legendary status and itself only being a 2/2 with no evasion so I don't think I want to start it in the main deck for now.



The Support Spells

It looks like there is the creature base to make our Blue-Green tempo deck happen, now let's look at the spells that will tie it all together.



Spell Pierce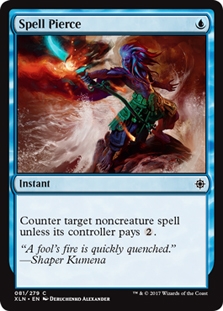 A 1 mana instant that often counters spells that cost much more than 1 mana. Spell Pierce is great in the Legacy tempo decks and should be great here too.



Revolutionary Rebuff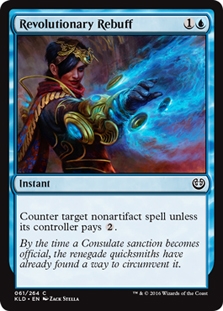 An all-round counterspell that is still cheap. I'm not anticipating many artifacts to be played so in most cases this will be a slightly worse Mana Leak. Revolutionary Rebuff should be effective at all points in the curve and like Spell Pierce, trade up in mana.



Unsummon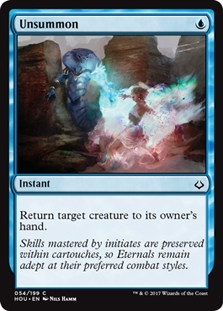 The cheapest Blue 'removal' spell there is. It's not Vapor Snag but it will clear the way for your Merfolk to get in while getting you ahead on tempo. Unsummon can also be used to protect your creatures from removal or pump a Deeproot Champion.



Sixth Sense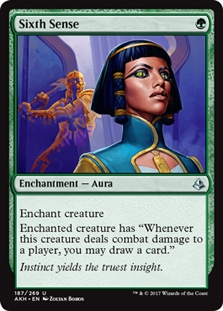 With Unsummon and counterspells keeping the opponent off balance I think Sixth Sense might be amazing in this deck. The green enchantment will keep the cards flowing so we can continue to trade them for tempo and damage.



Chart a Course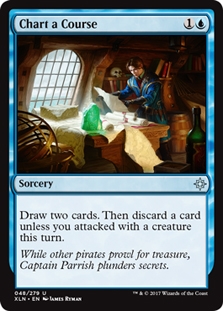 Another great reward for attacking, the Blue Tormenting Voice! Just like Sixth Sense we can make good use of the card draw, allowing us to play fewer lands and grow our Deeproot Champion.



Opt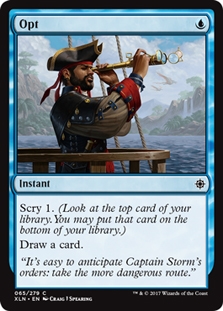 This looks like a card that doesn't 'do' anything in that it doesn't affect the board or counter a spell. What it does though is let us play a lower land count, pumps up our Deeproot Champion, prevents flooding and helps find the right spell for the right situation.



Blossoming Defense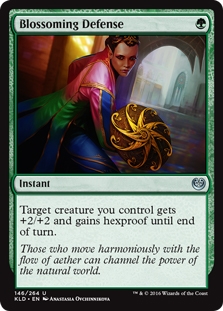 I can see playing a couple of Blossoming Defense as a cheap way to counter removal or win creature battles. Protecting our threats is critical and like the other spells in the deck this should trade up in mana.



Open into Wonder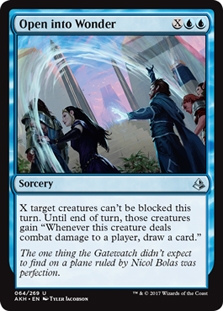 I had considered Open into Wonder for this deck too as in theory it could draw cards in the mid-game or win through a board stall in the late game. However, with Chart a Course and Sixth Sense we shouldn't be in need of the card draw whole River Sneak and Shaper Apprentice can keep attacking even when the ground is clogged.



Side Note: Walk the Plank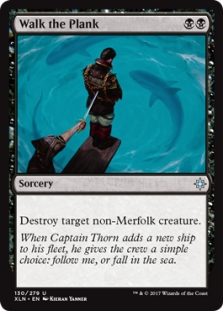 If you try to make a Merfolk Walk the Plank it just swims away. I expect a lot of players to sleeve up Walk the Plank as a replacement for Grasp of Darkness. If that does indeed happen you won't even need Spell Pierce or Revolutionary Rebuff, just swim right on past.


The Mana Base

The mana bases in new Standard are reasonably bad. 2 sets of allied colored lands (Port Town, Prairie Stream) and 1 set of enemy colored lands (Wandering Fumarole) are rotating out while 1 set of allied colored lands rotates in (Glacial Fortress).

Overall, the mana in Standard is not great but there are still ways to make the mana work.



Unclaimed Territory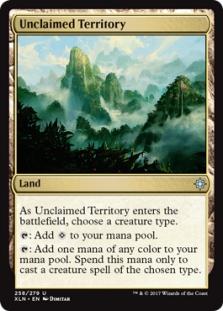 Our last, and quite important, a reason to play all Merfolk is this tribal land. Unclaimed Territory is going to be crucial in any tribal deck in the new Standard format including this deck.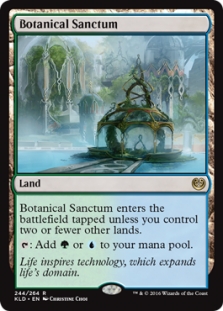 The Kaladesh fast land is exactly what we are looking for, providing both colors of mana while coming into play untapped on turn 1.



Hashep Oasis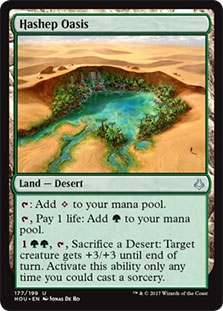 Instead of a Forest I have elected to play a single Hashep Oasis. I don't anticipate taking much damage from it but the ability could prove useful on occasion. If Ipnu Rivulet had a relevant ability I would be including it too.

Putting It All Together
After reviewing all the possible options, here is the product that I will be happy to try out!
Blue-Green Merfolk (XLN) (Standard - Others)
Gallery View
Standard by Justin Robb

This deck shows a lot of promise and I can't wait to test it. It reminds me a lot of Delver or Miracle Grow but updated for 2017. Ixalan looks like a lot of fun for Standard and even more fun for brewing. That's all from our fish friends this week. I hope you all had fun at the Prereleases as well as enjoy all that Ixalan has to offer in the coming months!
---
Cards in the Articles
$121.99

$73.99

---
Articles you might be also interested
Lee Shi Tian picks out the best Standard cards from Core Set 2019!
Simon Nielsen begins preparing for Standard and shares four of his newest brews!
Zen Takahashi begins brewing for M2019 Standard starting with one of the his favorite tribes!
---
---