Traversing at Pro Tour RIX

What a wild ride!

I just returned home from Pro Tour Rivals of Ixalan where I finished 12-4, thanks to my strong Constructed performance. Yes, I will try to improve in Limited, promise! My weapon of choice for Pro Tour Rivals of Ixalan was Traverse Shadow, which I piloted into a 9-1 record.Let us start with the list, before going into more detail:
Traverse Shadow (RIX) (Modern - Top 16)
Gallery View
Modern by Immanuel Gerschenson

No White

The first thing that catches your eye might be the total absence of white in my decklist. There are several reasons for that. White only helps you out in the midrange matchups, such as Jund or Abzan. The touch of White also good against Affinity and even against the mirror, but the addition of White isn't necessary because you can beat those decks without overstretching your mana.

Against control decks, Whtie may be good too, but as they are trying to combat your mana base (oooh, Spreading Seas or Blood Moon) and your graveyard, it might become a liability to add White. As I expected less than 5% of those midrange decks, plus I found another way to beat the mirror, I decided to skip having White and have a slightly better mana base.
Blue Additions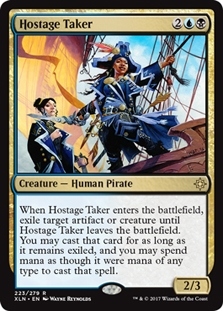 I would love to discuss the very spicy Hostage Taker. I have to thank Magnus Lantto on this one because he was the one who brought up the idea of trying this fantastic card.

Hostage Taker was amazing all weekend and it also made the Top 8. I usually board it in against the mirror, midrange decks, and Lantern Control. Post-board, the mirror is not about being fast (usually) and Hostage Taker punishes this fact.

Have you ever cast Hostage Taker to steal your opponent's Death's Shadow, Tasigur, the Golden Fang, and Gurmag Angler? All these creatures can be cast for a single Black mana, which means that you only need 2UBB to turn the entire game around.

Your opponent cannot do much to this line of play, unless they have a fetch land to switch on revolt and then cast Fatal Push on your Hostage Taker in response.

Against Lantern Control, you can steal Ensnaring Bridge, Pithing Needle or Codex Shredder, because Hostage Taker can also take artifacts. That might let you play around multiple Welding Jar or such, as the Lantern Control player does not have a lot of removal forHostage Taker either.

Ready to get spicier?
The story of how I discovered this card was quite funny. I was preparing for the Team Constructed Grand Prix, and my teammates told me that Disdainful Stroke was not available to me because it was in another deck. After discussing it with others, and putting in a lot of research on Gatherer, Michael Brandtner suggested Delay as an alternative.

It sounded strange to me at first, but after trying it at my first Magic Online Competitive League, I was sold on this card. I would even go as far as saying that Delay is better than Disdainful Stroke in Traverse Shadow. It reads "Counter target spell," and that alone has the sound of a winner. You have to win within the next three turns or face your worst fears again, but it is usually enough time.
Sideboarding Guide

Enough about my decklist! Let's talk about the Pro Tour and my matchups there. I faced nine different decks in 10 rounds.

As going into details about every match might be a bit too long for this article, I will just tell you against what I played and how I sideboarded there.

5-Color Humans

Out:
2 Inquisition of Kozilek
2 Liliana of the Veil
3 Stubborn Denial
1 Traverse the Ulvenwald

In:
2 Kozilek's Return
1 Temur Battle Rage
1 Fatal Push
2 Collective Brutality
1 Snapcaster Mage
1 Maelstrom Pulse

I played against 5-Color Humans twice.

After playtesting, I came up with this sideboard plan, which did not disappoint. The reason for keeping Thoughtseize over Inquisition of Kozilek is that it makes it easier to cast Death's Shadow, which is your most important creature in this matchup.

You are playing a "combo/control" deck post-board, as you usually one hit your opponent with Temur Battle Rage. Your discard usually tries to remove Reflector Mage, Mantis Rider or Mirran Crusader, because those three creatures are the most efficient ways for them to beat you.



U/R Gifts Storm

Out:
2 Liliana of the Veil
2 Abrupt Decay
1 Temur Battle Rage
1 Dismember

In:
1 Stubborn Denial
2 Kozilek's Return
1 Duress
2 Collective Brutality

Usually, U/R Gifts Storm tries to beat you with a quick Empty the Warrens post-board or they will try to take the "value" route with Pieces of the Puzzle. My sideboard plan tries to combat both ways, but that causes me to be soft to Blood Moon.

It is unlikely that you can hold up two mana to cast Abrupt Decay on the turn where Blood Moon hits play, so you should rely on discard or counterspells. U/R Gifts Storm lists are playing no Blood Moon recently so I wouldn't worry about it too much until it becomes popular.



Mardu Pyromancer

Out:
2 Liliana of the Veil
2 Temur Battle Rage
1 Fatal Push
1 Abrupt Decay

In:
1 Liliana, the Last Hope
2 Kozilek's Return
1 Maelstrom Pulse
1 Snapcaster Mage
1 Duress

Mardu Pyromancer has a lot of removal, a lot of blockers, a lot of card drawing and card selection, and they have efficient ways to kill Death's Shadow or burn you out when you are low on life. In theory, you're a massive underdog in this matchup, but oddly, I have not lost to it so far.



Eldrazi Tron

Out:
1 Fatal Push
2 Inquisition of Kozilek
1 Abrupt Decay

In:
1 Maelstrom Pulse
1 Ancient Grudge
2 Delay



G/X Tron

Out:
3 Fatal Push
2 Liliana of the Veil
1 Dismember
1 Abrupt Decay
1 Traverse the Ulvenwald

In:
1 Stubborn Denial
2 Delay
1 Hostage Taker
1 Ancient Grudge
1 Snapcaster Mage
1 Duress
1 Maelstrom Pulse

In the main deck, we have plenty of dead cards, so we are slightly unfavored. After sideboarding, we're better off, but we should still try to win as fast as possible because at some point, they will begin jamming six-mana, seven-mana, or eight-mana threats turn after turn and it will be extremely tough after that.



B/G Midrange

Out:
2 Stubborn Denial
2 Temur Battle Rage
1 Inquisition of Kozilek or 1 Traverse the Ulvenwald

In:
1 Fatal Push
1 Maelstrom Pulse
1 Hostage Taker
1 Liliana, the Last Hope
1 Snapcaster Mage

Once more, you are the underdog. On paper. Trying to grind them out is as tough as trying to kill them fast, given that they have so much disruption and removal in their entire deck. You need to quickly decide whether you want to win soon, or play the long game, with the information that you gain from your early turns.



Grixis Shadow

Out (on the play):
1 Stubborn Denial
2 Temur Battle Rage
1 Inquisition of Kozilek

Out (on the draw):
2 Stubborn Denial
2 Temur Battle Rage

In:
1 Snapcaster Mage
1 Liliana, the Last Hope
1 Hostage Taker
1 Maelstrom Pulse

Winning fast is very unlikely, so you should settle for the more extended game. Usually, you will trade one-for-one until both players are out of cards, and then use the three threats (Snapcaster Mage, Liliana, the Last Hope, Hostage Taker) you boarded in to win the game from there. Their delve guys are annoying, but you should be able to beat those in time, especially after sideboarding.



Living End

Out:
2 Liliana of the Veil
3 Fatal Push

In:
1 Temur Battle Rage
2 Delay
1 Stubborn Denial
1 Duress

Try to play your creatures when you judge that the coast is clear (that means if you think they have no cascade spells in hand), or when you have countermagic in your hand to stop the first Living End. Don't rush in this matchup because you can afford to take your time.

The worst thing that could happen is that you aggressively cast your threats and have your entire team wiped out while their whole graveyard returns.



Jeskai Tempo

Out: 2 Temur Battle Rage, 1 Fatal Push, 1 Dismember,1 Abrupt Decay

In: 1 Stubborn Denial, 2 Delay, 1 Duress, 1 Snapcaster Mage

This was my only loss during the Modern portion of Pro Tour Rivals of Ixalan.

Sideboarding against this kind of decks is tough because they have a wide variety of cards that they could play in the sideboard. Some of these lists even have 15 singleton cards, and a couple of them might just take you by surprise. Since it is so hard to account for every possibility, you'll just have to try to adjust accordingly and take this sideboard plan with a pinch of salt and use your judgment.

So, here were my matchups at Pro Tour Rivals of Ixalan and what I did against them. Whether or not you are a Traverse Shadow player, I hope this guide helps you understand Traverse Shadow better for your upcoming Modern tournament.

I will be at Grand Prix Lyon next weekend, and then the Magic Online Championship in Seattle. Both events feature Modern. Hopefully, I will return with excellent results and more stories to tell!

Thanks for reading!
---
Cards in the Articles
$85.99

---
Articles you might be also interested
Andreas Petersen lists some broad options to fill out your Modern sideboards!
Andreas Petersen writes about his new spectacular Burn deck in Modern!
Michael Bonde shines a light on some electrifying technology!
---
---