Ixalan Cards to Explore in Limited

With each limited set comes a new series of puzzles and cards with effects that we have never seen before, or at least not in their current form.

With Ixalan having just released, I have decided to share my thoughts below on the cards I am having trouble evaluating on a surface level, along with my thought process for each one.



Commons

Commons tend to be the backbone of any limited deck, so correctly evaluating them is critical since you will see those far more often. After a few drafts and sealed decks, you should be fully aware of where each common fits.

Legion Conquistador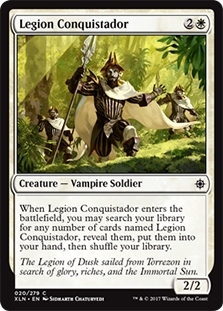 A 2/2 for 3 is very underwhelming, especially when you must pay for it each time – you need a serious amount of tempo in the rest of your deck to justify this type of card. Having access to at least 3 seems important, meaning you are filling your deck with Gray Ogres.

At least you get to put in your hand all of your copies from the deck as soon as you cast it. It's actually a shame it's a white card because it would work very well with many of the Red or Blue commons in the set that filter your draws like Rummaging Goblin – however, White's tribal pay-offs are in Green and Black.

All in all, the card is in an awkward spot and is likely not going to be good because the base stats and cost don't make it appealing. Don't be surprised though if a draft archetype ends up existing where having 3+ copies of this card is essential.



Fire Shrine Keeper (& Friends)

You could really put the whole 8-mana activation cycle here.

They essentially serve 2 purposes – triggering raid and have something to do late-game with your excess mana (most likely from treasures). It's likely that the Green one is the best one just because it's a 2/2 for 2, but the Red / Black / Blue ones being able to easily trigger raid early on and synergizing with treasures gives them value.

My suspicion – these are not great cards and will end up being filler. However, it could easily be that a key archetype in their color needs this type of effect and the pick order for the cards goes up.
The white one is likely garbage, but even that could be a great sideboard card for the vampire mirror.



New Horizons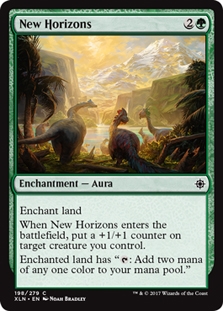 If you've read my articles before, you know I love a good Gift of Paradise. This card is in the same lineage but plays vastly differently.

With Gift of Paradise, the life gain ensured you could survive in order to enact whatever crazy shenanigans you had in store, so it was more about negating the card lost by going over the top. To get value from this card, you really need to run enough 1 and 2 drops to make it work and give you a vital early board presence (I'd say 5-6 minimum) and then 5+ drops on the other side of the curve for pay-off purposes.

To be really interested in New Horizons, I foresee such decks to have an n-shaped curve: deep at 1-2, deep at 5+, shallow at 3 or 4. I am quite excited to see how this card will turn out in gameplay.



Jade Guardian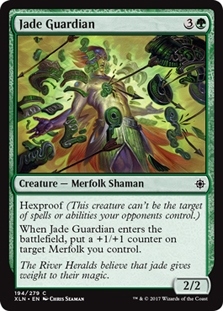 A common with Hexproof, in a format with Auras that give evasion, is not going to be a fun experience.

I really hope I am wrong about this card being good because there is very little any player can do to stop this card once it hits play if you slap a One with the Wind on it (combined with Mark of the Vampire for total horror).

It's a shame Clip Wings did not see a reprint. Maybe this card isn't too hard to evaluate, but how good it remains important to ask because it could define which archetypes are playable and which aren't.



Uncommons

Most uncommons are either potent effects or build-around limited cards – it's why the majority of hard to evaluate cards end up in this rarity.



Bellowing Aegisaur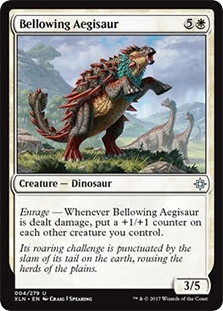 A 3/5 for 6 mana is far from impressive. However, it could end up being way more powerful depending on the creature stats you are facing and the amount of evasion in this set. Attacking into this dinosaur is extremely punishing and any attacker with first strike becomes a liability.

The fact it dies to Vanquish the Weak is a massive problem though.



Duskborne Skymarcher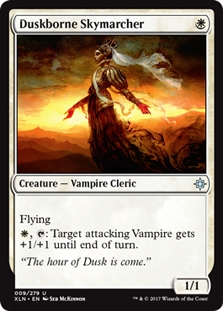 Pumping an attacker is usually much stronger than it seems at first glance. The fact that the ability costs mana and is restricted to vampires makes this quite a lot worse – a base 1/1 flyer really needs more to have value to justify you running it (the fact it is not in a primary raid color doesn't help).

With the reservations above, limited is so often about board control that this card could turn out being a pay-off card for vampire decks.



Deeproot Waters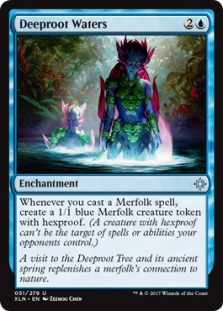 One of the usual build-around uncommons that exist in Modern sets. There are three main questions behind this card:


How relevant is a 1/1 body in this set?


How many Merfolk do I need to make this card playable (you also have to account for and consider how bad of a topdeck this card is)?


What are the other tribal cards that help to make this card excel?


My current stance is that this card will be close to unplayable under 7-9 Merfolk but then I am unsure after that. Oketra's monument ended up being very powerful but it was a combination of vigilance, cost-reduction and working with any creature that made that card wonderful.



Emergent Growth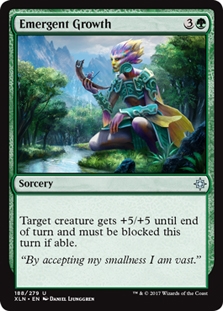 Not having trample ensures that this card goes from bomb uncommon to quite the question mark. It's not for every deck, but it seems great if combined with a Trampler, a flyer (as a Lava Axe style effect) or a Territorial Hammerskull. It could also be a totally dead card in the face of multiple 1/1 lifelink creatures.

It is also one of the very few ways in the set to actually kill a Jade Guardian, even though it's quite unlikely that it would occur in practice.



Bonded Horncrest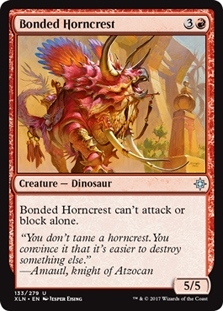 The fact this is a Dinosaur and 5/5 in an aggressive color bodes well for this creature even with the drawback. Ember Beast was playable and having this large a body is going to make some curve-outs particularly painful. Not being able to remove it may end in a quick loss for your opponent.

A word of caution – there are definitely match ups where this card could be quite dead, depending on how each player's deck matches out.



Fiery Cannonade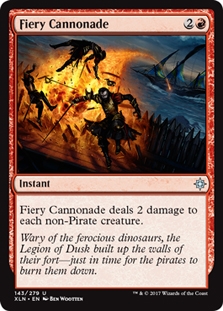 The usual conditional red sweeper we get in each set. It's always fascinating to see where this type of effect ends up – if you remember Incendiary Sabotage from Kaladesh, it started as overvalued, then seen as bad because of the way the color red lined up in the set, and then became good again with Aether Revolt because of average creature sizes changing.

However, it's likely still a decent pick-up, as it makes short work of most of the vampires in the set and enough of the other low drops to be worth running. I could easily see a situation though where you play against a pirate deck in Booster Draft and this becomes awful. The card seems best in Blue-Red Pirates, where you can loot to either dig to this powerful effect or get rid of it when it is irrelevant.



Lightning-Rig Crew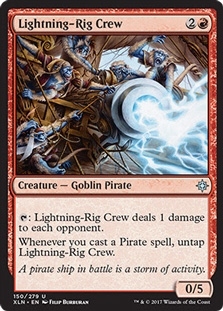 Ixalan's variant of the various 0/X red creatures in recent Limited sets. These usually end up being quite good, and the fact that this can attack to trigger raid is relevant. I am going to rate this card very highly because so far the "Ping-Walls" (the most recent one Wall of Forgotten Pharaohs) being we've had have all over-performed expectations. Don't underrate this card – it seems great with both Pirates and Dinosaurs tribal decks.

My main question would be how good it is in Red-White, without the synergies or strategic value of a 0/5 creature – that I am less clear on.



Rares & Mythics

Rares & Mythics are much more rarely going to show up in your games, meaning you will be paying less attention to them on average when preparing for limited events.

But we have all been there – that moment where you have no clue how good the rare from your pack actually is. Hopefully, you know how to improvise when the time comes.



Axis of Mortality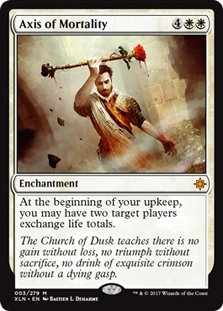 While this card technically does nothing to affect the board (a very bad sign for a limited card), the effect is very powerful if you can control your own life total (Adanto Vanguard) and kill your opponent in one hit. The fact that the effect is repeatable and not mandatory makes it even more fascinating.

If you have the card in a future draft or sealed deck, give it a shot. I am honestly willing to believe it's anything from a critical piece to stone-cold unplayable, likely ending up as a card you will see wheel around in Booster Draft.



Deadeye Tracker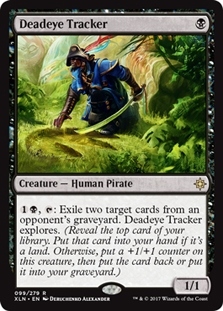 The question for me is not if this card is good but how good is it?

A 1-drop with late-game applications tends to be over-par and a strong pick in its own right. However, early games of Ixalan are showcasing less interactivity and there are quite a few conditional removal spells – this means graveyards may not be as well stocked as they could be.

For this card to be good, you really need to get that 1st activation (meaning that your opponent has two cards in his or her graveyard), or trigger raid (which seems quite unlikely if you are on the draw).

The most interesting aspect is involving the tracker in blocking since you cannot guarantee it will grow in combat and a profitable trade may come down to the top of the deck.



Sunbird's Invocation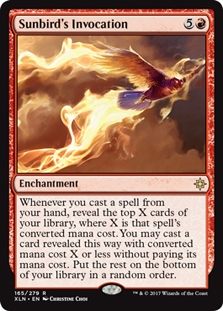 This is my pick for the hardest card to evaluate in the whole set. On average, this is likely going to be bad in a limited deck (6 mana to do nothing immediately is rarely a recipe for success). However, in the right deck, this card could be completely nuts – playing a 5-drop after this and getting another 3+ mana card for free is going to be a huge tempo swing, especially if you can follow it up turn after turn.

I am genuinely curious to see what limited decks will end up working with this card. I'll definitely be giving it a shot.



Treasure Tokens

How valuable is a Lotus Petal exactly? It's not an effect we are used to seeing in Limited because mana ritual effects are so bad in Limited that they are close to unplayable.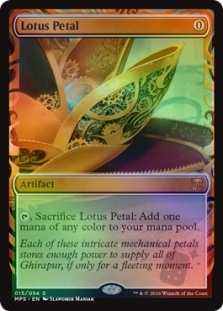 But when they are a bonus permanent, it becomes less clear.

From viewing the set, it's interesting that there are not many pay-off cards at Common or even Uncommon for accumulating many Treasures. The cycle of cards that sacrifice for 8 mana is one, but you can only have so many of these since we are using temporary mana. If there is a lot of card advantage in your deck, then the tempo given by treasures is likely to end up being more valuable.

There's also the interesting question of splashing – not just bombs, but it could be quite possible for a 2-color deck with a double few treasure makers to have a card like Colossal Dreadmaw or Ancient Brontodon to top off the curve and attack from a different angle.

At first glance, it seems like Treasures are likely going to be more valuable in Sealed, where the average converted mana cost is higher, there are more bombs and you have more time to keep them around for the purposes of a splash card. But in Booster Draft, the tempo from having untapped mana and being able to always keep a Lookout's Dispersal at the ready may be more valuable.



Parting Words

It's likely my thoughts will change as I play more with the format. With a ton of limited events coming up for me (GP Providence, GP Phoenix, PT Ixalan, GP Lyon, World Magic Cup), I am going to try my best to crack the code.

Let me know your personal experiences with the cards I mentioned above, curious to hear from you.

Thanks,
Eduardo
---
Cards in the Articles
$0.84

$0.79

---
Articles you might be also interested
Lee Shi Tian goes through the colors pairs in Core Set 2019 booster draft.
Zen Takahashi reviews the top commons and uncommons from Core Set 2019!
Zen Takahashi reviews the top commons and uncommons from Core Set 2019!
---
---